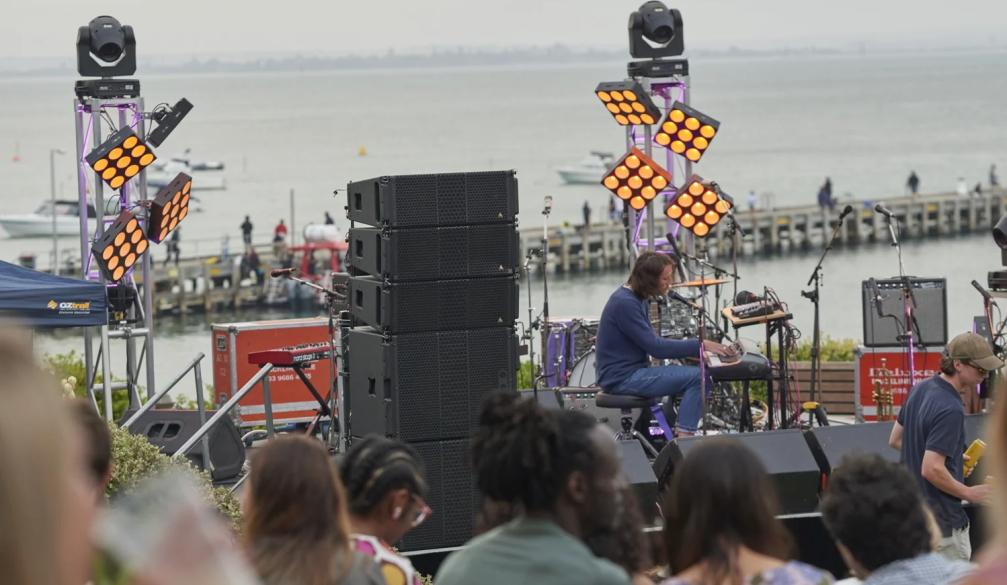 Kicking off on Saturday, 29 October, live music is back at Portsea Hotel with some of the country's biggest live acts, as well as favourite local artists, coming to the Mornington Peninsula for the Summer Music Series. As the weather warms up, so will the party vibe, with the iconic venue playing host to some hottest acts in town.
The Portsea Summer Series line-up is packed and includes: 
Client Liaison:  Saturday, 29 October 2022
Yo! Mafia - DJ Party Set: Friday, 23 December 2022 
Emma Peters - DJ Set: Saturday, 31 December 2022 
Live Music Month: January 2023
Daryl Braithwaite: Sunday, 12 March 2023 
The line-up begins with local electronic indie-pop band Client Liaison, who will bring their fun, faux-fi beats to the Bay. To celebrate the launch of their latest album, Divine Intervention, the Melbourne duo will bring their trademark 90s style and energy to the Portsea Hotel over the Melbourne Cup long weekend. Their iconic stage show, complete with amazing costumes and lights, has cemented them as a firm favourite among festival-goers. Performing their latest songs, as well as favourite tracks, including The Real Thing, World Of Our Love, Champagne Affection, Intervention, House Of Holy and many more, this will be an event not to be missed.
On Friday, 23 December, the fun continues with the international DJ and entertainment machine Yo! MAFIA bringing a riotous party set, just in time for Christmas. Known for her high-octane, feel-good vibes, Yo! MAFIA is the official resident DJ on the lineup of Fridayz Live, Australia's biggest dance party, as well as many other premier events across the country. Bringing her signature mix of 90s classics and house anthems, YO! MAFIA has solidified her place as one of Australia's premier party DJs, with an incredible ability to blend and mix a variety of genres into one big party set. Yo! MAFIA is sure to get the crowd going, the perfect start to Christmas and the festive season.
New Year's Eve will go out with a bang, with a DJ set from superstar performer, DJ Emma Peters. With infectious energy and great performer's instinct, Emma has developed a reputation for being a crowd pleaser and a favourite among the Australian entertainment and events scene. Emma has previously performed across many of Melbourne's top events, including the Melbourne Grand Prix and Australian Open. Emma will have the crowd pumping as they ring in the New Year with all her favourite party hits and this event is sure to be a sellout.
The fun continues into the New Year, with January 2023 playing host to Live Music Month. With free entry daily, the Portsea Hotel's famous beer garden will play host to local artists and performers every afternoon throughout the month. Guests can enjoy summertime serenades whilst sipping on a beer or a wine - the perfect way to relax, unwind and enjoy the best spot on the Peninsula at its finest.
Rounding out the Series, one of Australia's most beloved and iconic performers, Daryl Braithwaite, will bring his classic hits to the Portsea stage on Sunday, March 12 2023. With a career that has spanned over 50 years, Daryl has reached living legend status and is a performer that crowds, both young and old, adore. Patrons will be able to sing along to Australian anthems, such as Howzat, Horses and One Summer under bright autumn skies, the perfect finale to the Summer Music Series.
Client Liaison tickets are available now. Tickets for all December 2022 events go on sale Monday, 17 October 2022, and are sure to sell out. Daryl Braithwaite Early Bird tickets are on sale Monday, 2 January 2023.
Summer Music Series: Client Liaison
Live music lives at Portsea Hotel this summer with the Portsea Summer Series. All summer long Portsea Hotel has got an exciting line-up full of some of the country's best live acts, mixed in with your favourite locals for the Peninsula's biggest summer party, brought to you by Pirate Life Brewing. It all kicks off on Saturday, 29 October with Client Liaison bringing a little bit of divine intervention to the bay on Melbourne Cup Weekend. Tickets are now available for $70.77. 
Date: Saturday, 29 October 2022 from 5 pm 
Website: https://portseahotel.com.au/summer-music-series/ 
Tickets: https://www.eventbrite.com.au/e/client-liaison-presented-by-pirate-life-brewing-at-portsea-hotel-tickets-415033354937 
About Portsea Hotel

3746 Point Nepean Rd, Portsea VIC 3944

Located on the shore of Port Phillip Bay, the Portsea Hotel is one of the most iconic venues on the Mornington Peninsula. Established in 1876 and recently restored to its former glory, Portsea Hotel is the perfect place to stay, drink or dine by the bay. Located only 1.5 hour drive from Melbourne, Portsea Hotel will quickly make you feel as though you have been transported on holiday. Enjoy a meal in the Longshore Room, a lazy lunch or dinner out on the terrace, as you gaze across the calm, glittering waters of the Bay. The Portsea Hotel is the ideal place for a peaceful stay, bayside dining or a relaxing afternoon beer. The Portsea Hotel menu has something for everyone, with a menu that includes a selection of Australian seafood, premium meat cuts, wood-fired pizzas as well as pub classics such as chicken parmigiana and fish and chips.