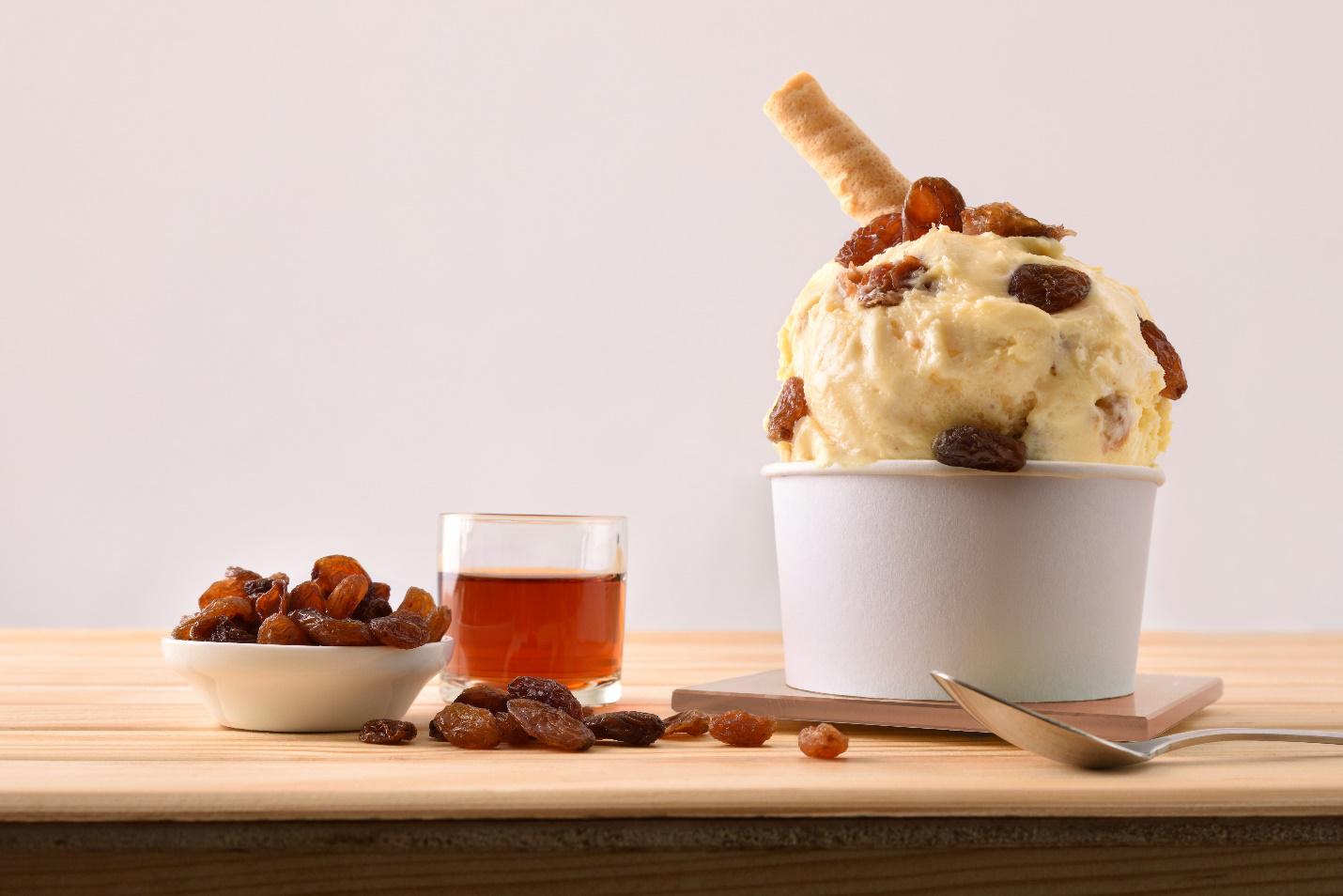 he weather is beginning to warm up in Australia through the new year and into January. Naturally, as true blue Aussies, once the mercury hits over 30 degrees celsius, we often run straight to the freezer aisle of the supermarket for a refreshing icy pole or delicious cooling ice cream.
Are you, just like us, tired of going to the stores and buying the same old tub of Neapolitan ice cream though? You've bought yourself an ice cream maker for the new year and now sure where to start? Worry not, we've concocted a beautiful, rich rum and raisin ice cream recipe that will surely make your taste buds dance, using the best WA rum on the market.
Typically when making a rum and raisin ice cream, it's suggested to use cinnamon and other spices, but for this recipe, we'll be using WA's own Illegal Tender Rum Co.'s Spiced, which will give it the complex and spicy flavours that will blend together smoothly in this delicious dessert.
The Origin of Rum and Raisin Ice Cream
Before we get to the recipe, perhaps a little bit of history behind the dessert may enhance your appreciation for the ice cream. The origin of the delicious rum and raisin ice cream can be traced back to Sicily, known as Málaga gelato.
Málaga raisins were a popular ingredient throughout Europe and commonly used in many dessert dishes, from cakes to gelatos. In the original historical recipe rum wasn't used, instead, the Málaga raisins were used and soaked in wine to give the gelato a rich, alcoholic flavour. The soaked raisins allowed for a flavourful little blast of sweetness and alcohol.
The switch to rum as an ingredient for the gelato happened sometime in the late 17th century, as trade to Europe from the Caribbean imported massive amounts of sugar and rum at a cheap price. King Louis XIV was said to have a sweet tooth and loved the sweetness offered by rum. Being favoured by the King of France, rum grew in popularity and was produced at an alarmingly fast rate in the Caribbean Islands to keep up with demand. Gelato makers saw that rum served as a sweet and light alternative to the heavier wines, and it made more sense to use the cheaper, tastier rum.
Perhaps the widespread love of rum and raisin ice cream is largely in thanks to Häagen-Dazs, a large ice cream brand from America. The company picked up the recipe in the 1980s and brought it to the larger U.S market. It quickly became one of the brands most popular flavours, making way for more adaptations and interpretations of the famous dessert.
The Recipe
How long will it take?
3 days, but only 30 minutes of work.
Equipment you will need:
Medium saucepan

Medium mixing bowl

Whisk

Fine mesh sieve

Ice cream maker

Airtight tupperware container
Ingredients:
1 cup raisins (dark raisins are preferable)

1/2 cup of Illegal Tender Spiced, for soaking raisins.

2 tbsp of Illegal Tender Spiced for ice cream mixture perfect for desserts such as this.

Will also need an extra 2 tablespoons of spirit.

1 cup sugar

2 cups of thick cream or whipping cream

2 cups whole milk

1 tsp vanilla extract

4 egg yolks
Method:
First of all, you will want to get prepared a day earlier, as you will need to soak the raisins and chill the ice cream mixture overnight.

Soak the raisins in the spirit in an airtight container, like a small to medium tupperware container at room temperature. These will need to be soaked overnight, so set them aside now.

In a medium saucepan combine the milk and cream at medium heat and stir until you can see some steam rising out of the pan, making sure not to bring it to a boil.

Whisk the egg yolks and sugar in a medium mixing bowl, and gradually pour in the hot and steaming mixture, making sure to whisk it together slowly. You can do it 1 cup at a time, so the yolk doesn't scramble. Keep whisking until it sticks to the whisk.

Stir 2 tablespoons of spiced spirit into the ice cream mix.

Now you will want to strain the mixture through a fine meshed sieve into a mixing bowl. This may seem pointless, but it removed any egg that may have scrambled or milk that may have curdled.

Place the mixture into the fridge and chill overnight.

The next day drain the raisins and remove your chilled mixture from the fridge.

Now add the mixture to your ice cream maker, following the manufacturer's instructions and adding in the raisins when the ice cream begins to stiffen, or when the instructions say you should add extra ingredients.

Depending on the ice cream maker, you will probably have to freeze for around 24 hours before you can serve it.

Enjoy!

Serving Suggestions for Rum and Raisin Ice Cream
You can serve the rum and raisin ice cream to your liking, just like any old ice cream. Everyone has their own way to eat ice cream, whether that's just in a big lump in your favourite dessert bowl, or on a cone. The choice is yours, we're not here to judge. Although, if you want to have it with something for dessert that will complement the flavours of the ice cream, a good choice would be a warm apple pie. The warmth and sweetness of the pie will contrast with the cool and smooth flavours of the ice cream, offering a dessert to die for.
If you're looking for a spiced spirit, such as Illegal Tender's Spiced Spirit, make sure to check out our website here, or purchase it in person from any of our distributors listed on this page. Illegal Tender Rum Co, offers a range of different rums and spirits that you'll be sure to love, so we recommend you try it all (in moderation of course) and find your favourite!