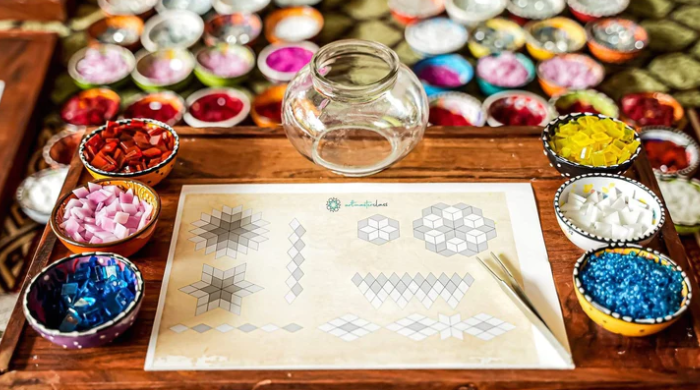 Art Masterclass is a boutique art studio that organizes mosaic workshops for art enthusiasts and lovers who want to learn traditional Turkish mosaic art. Also, prepare mosaic DIY kits so you can create your mosaic artwork from the comfort of your home.
By attending the mosaic classes organized by Art Masterclass, you can learn the art of mosaic step by step. Moreover, with Art Masterclass, you can organize a customized mosaic workshop for special days, for example, birthdays and corporate company celebrations.
If you want to explore mosaic art from the comfort of your home but need help figuring out where to start, Art Masterclass mosaic DIY kits can be a great opportunity. In these kits, you will have all the materials needed to create your mosaic artwork, and you will be able to easily create your artwork under the guidance of the Art Masterclass.
Why Should You Try Art Masterclass Mosaic DIY Kits?
Mosaic is an art that will support your mental, physical and artistic development in every way, remove the stress of daily life, and is very easy to learn. You can have many advantages by trying mosaic DIY kits prepared by Art Masterclass. Here are some of the benefits you will have:
- Convenience: Art Masterclass mosaic DIY kits allow you to work on your schedule and at your own pace. You can create a mosaic in the comfort of your home without worrying about commuting to a class or workshop.
- Affordability: Mosaic DIY kits can be more affordable than taking a class or workshop, as they typically don't require additional materials or fees.
- Variety: Many mosaic DIY kits come with a wide range of materials, allowing you to experiment with different colors, textures, and designs.
- Customizable: Mosaic DIY kits can be customized to your taste and style, and you can choose the design and colors you want to use.
- Great for beginners: Mosaic DIY kits are great for beginners new to mosaics, as they come with detailed instructions and all the materials you need to complete your project.
- Great for families and children: Mosaic DIY kits can be a fun and educational activity for families and children, as they can foster creativity and teamwork.
- Good for mindfulness: Creating mosaics can be a meditative and therapeutic activity, which can help with stress and anxiety.
- Great for Gift: A mosaic DIY kit can also be an excellent gift for someone interested in mosaics or for someone who needs a new hobby.
What Kinds of Mosaic DIY Kits Does Art Masterclass Offer You?
Art Masterclass offers different mosaic DIY kits with all the necessary instructions and materials. With these kits, you can easily create your work of art in the comfort of your home. For example, with the candle holder DIY kits, you can create your candle holder artwork quickly and use it decoratively in your home.
Another highly demanded DIY kit is the table lamp DIY set. With this kit, you can make a fascinating mosaic table lamp and gift it to your loved ones or use it yourself. If you like the idea of making a mosaic lamp, you should know that Art Masterclass offers lamp DIY kits in different designs. You can find swan and Aladdin lamp kits among the Art Masterclass DIY kits. Check the www.artmasterclass.com.au website for more options and information.