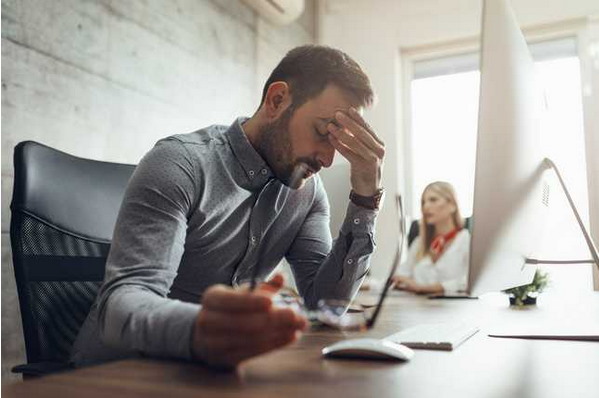 Being a business owner is not easy. Every day, business owners come face to face with the many challenges of running a business. They have to make dozens of important decisions each day and it never seems like there's an end to the constant demands of the job.
If you're a business owner, you know this all too well. As a result, you experience a great deal of stress and anxiety. Living in an anxious state at all times can affect your health, your relationships, and your overall happiness. Learning how to cope with anxiety is a crucial part of being a successful business owner.
There are many healthy ways to deal with stress and anxiety in the business world. They are easy to learn and are simple to apply. Each of the following suggestions will help when used on its own, but if you use them together as one, you will soon find yourself feeling much more relaxed. 


1. Exercise
Everyone knows by now that exercise is one of the best things you can do to help fight stress and anxiety. Being a business owner includes long, tiring hours, so it's likely you haven't been exercising as much as you should. However, in order to be a healthy human both mentally and physically, you need it.
Most experts agree that you should try for at least thirty minutes of moderate activity every day of the week. If your current activity levels are far below that, step it up a notch and you'll soon feel much better overall.


2. Meditate
Meditation will also do wonders for your anxiety. Running a business is hard; you have so much to think about and the thoughts never seem to stop coming. Meditation will give you an opportunity to clear your mind and focus on one simple thing: the breath. In doing so, you will experience a brief escape that is so valuable. You don't have to set aside hours a day for meditation; even ten minutes a day can make a world of difference.


3. Practice Self-Care
You're in charge so you put everyone and everything before you, but if you want to learn how to cope with anxiety, you need to stop doing that all the time. You deserve a break - many breaks, in fact.
Practice self-care. Step away from your phone and computer and unplug for a while. Take time to do things that you enjoy just because they are fun. Get a massage. Take a long bath. Spend time with your kids or your dog. You'll feel your adrenaline levels lower as each moment passes. Enjoy yourself.


4. Journal 
Another way to lessen your anxiety is to get it out of your head and onto paper (or onto a computer screen, if you prefer). Writing about your stresses and feelings will help you to quantify them and create actionable plans. In doing so, you'll feel a lot less anxious about all the things on your plate. Once they are in a concrete form, they are far easier to handle.


Be a Strong Business Owner: Know How to Cope With Anxiety
As the owner of two agencies, I too have faced tons of stress and wrestled with anxiety. Working with kids in Bubblegum Casting is amazing, but when those kids don't land a gig after an audition, my anxiety and stress levels go through the roof.
I use all of the above methods to help keep my anxiety in check. I have learned that sometimes I just need to step away from everything, take some deep breaths, make time for me, and then I can come back and be a far better business owner than before. Running a business is never easy, but taking care of yourself first is truly a key to success. 
--------------------------------------------------------------------------------------------------------------------------
Adam Jacobs is the incredibly busy Managing Director of Bubblegum Casting, and Hunter Talent. He works with some of Australia's biggest brands, media properties and agencies to secure talented children to work in television, film and modelling roles. They've recently launched an office in LA, too.