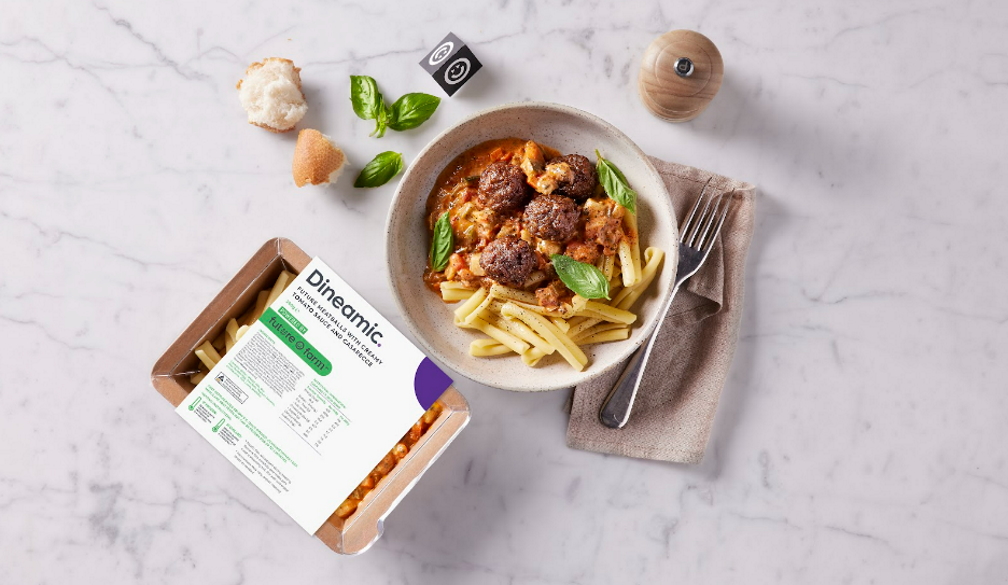 MasterChef 2021 Winner, Justin Narayan develops exclusive plant-based, protein packed meals for Dineamic in partnership with Future Farm


Meal prep company, Dineamic has added plant-based bites to its menu, launching a selection of healthy and sustainable ready-made meals powered by international food tech company, Future Farm.
Five phenomenal, plant-powered meals will be available through Dineamic, developed to meet the growing demand for plant-based options and landing just in time for World Vegan Month (November). 
MasterChef 2021 Winner and Future Farm Ambassador, Justin Narayan jumped on board to exclusively craft two delicious plant-based meals powered by Future Farm.
With Future Farm's sustainable plant-based proteins that are composed of vegan ingredients that are free from artificial aromas or colouring, non-GMO and ethically sourced; Dineamic is delivering deliciousness right to your door with the click of a button.
Karen Inge, Dineamic Founder & Accredited Practising Dietitian said the partnership sprouted due to a noticeable increase in customer demand for plant-based meal options. 
"As a company that has always tried to make healthy eating accessible, regardless of cooking ability or dietary preferences, we felt an instant connection with Future Farm's ethos and range of products. We knew immediately they were the right fit for us to launch our plant-based selection," Ms Inge said.
"All of our meals are dietitian and nutritionist approved. We care about our meals, the quality of the ingredients, making them flavoursome and delicious as well as ensuring that you have access to all the nutritional information. With Dineamic at the dinner table, you can feel healthier and happier."
Marcos Leta, Future Farm Founder said the partnership was a natural fit, with both companies putting strong emphasis on ingredients that are good for people and the planet.
"Our plants-only ingredients are the best of the best: clean, nourishing and sustainably sourced. What's more, each fake meat mimics the taste, texture and tenderness of real meat, making them suitable meal options for vegans, vegetarians and flexitarians alike," Mr Leta said.
With an RRP of $11.50 each, plant-based meals available include Pumpkin & Future Mince Bolognese with Ravioli; Harissa Future Meatballs with Vegetable Couscous; and Future Meatballs with Creamy Tomato Sauce and Casarecce.
Justin Narayan whipped up the Future Mince Sri Lankan Curry with Rice & Broccoli and the Umami Mushroom & Future Mince Stir-Fry with Rice & Green Beans.
"I'm impressed with the range of plant-based options available through Dineamic. I believe everyone should have healthy, sustainable, delicious foods to choose from, no matter what their dietary preferences are," Mr Narayan said.
"Tapping into the Sri Lankan and Chinese cuisine, I crafted two tasty meals with Future Mince. Because Future Mince tastes just like real mince, I was easily able to bring out the bold, unique flavours in each dish. Whether you're a hardcore vegan or just getting a taste for plant-based products, these meals can be enjoyed by all."
To get $25 off the Powered by Future Farm range, use the discount code WELCOME25 at the checkout via the Dineamic website (conditions apply). In addition, Dineamic is stocked in select Woolworths, Coles and IGA stores. The Powered By Future Farm range is set to be available from stockists from 23 April, 2023. You can find Future Farm on shelf at your local Coles. 
Dineamic has launched five plant-tastic ready-meals made for vegans, vegetarians and flexitarians powered by Future Farm starting from $11.50. This World Vegan Month, get a taste for the plant-based lifestyle delivered to your door. 

ABOUT FUTURE FARM 
Changing the way people eat meat around the world, to ensure a better future for people, animals and the entire ecosystem of planet earth: this is the mission Future Farm is founded on. An international food tech company that uses non-GMO products to create the best plant-based meat, Future Farm's innovative approach allows them to produce food that has the same taste, texture and juiciness as meat without harming animals or the planet. After launching in Brazil in 2019, Future Farm began an expansion process in Europe and the United Arab Emirates in 2021 and today its products are available in 30 countries worldwide. 
The 'Future Burger', Minced Meat, Meatballs and Tvna use gluten-free and GMO-free ingredients, such as peas, soy, chickpeas, beetroot powder. Future Farm was the first brand in Brazil to receive the Fast Company 2020 World Changing Award, which is given to companies and organisations driving change in the world. Future Farm has started the process to become a B Corp and has received the following certifications: FDA certification (Food & Drug Administration); BRC Audit (global standard assessment for retailers) with the highest AA + FSMA score; RTRS (certification for soy production, processes and trading - This is an international initiative that brings together soy producers, retailers and processors, as well as banks and social organisations, in order to encourage responsible soy cultivation worldwide and the social responsibility of this sector); Kosher and Halal certification issued by OU (Union of Horthodox Jewish Congregations of America) for the following products: Future Burger, Future MeatBalls, and Future Mince. It also uses only responsibly produced coconut fat and canola oil; certified vegan ingredients. 
Future Farm is excited to announce that the Future Burger is certified carbon neutral, at a global level. A plant-based diet has always had a smaller environmental footprint than a meat-based one, but we are taking our commitment to the next level by measuring, offsetting and reducing our carbon impact. Whenever you buy a Future Burger, in any of our 28 countries currently stocked with the range, 100% of the carbon emissions (from growing the crops to disposal at your house) are offset by Climate Partner. What's more, we are specifically offsetting by preventing Amazon deforestation in our home country of Brazil.
ABOUT DINEAMIC
Dineamic was founded in 2008 by former AFL premiership player, Jason Johnson, and accredited practising dietitian, Karen Inge, to create nutritious, balanced, ready meals for athletes. Through their performance on the field or work with elite athletes, they shared a passion for nutrition and understood its importance in the sports world. 
Packed with good ingredients and great flavours, Dineamic's chefs prepare fresh, flavourful, ready meals, made with ethically sourced ingredients from local Aussie farmers. Using the highest quality free-range chicken and pork, grass-fed beef and lamb, or sustainably fished seafood, there's no added nasties or numbers, just like your home cooking. No mess or stress, just delicious, healthy food. Feel good—inside and out—knowing that we've taken care of everything, so you can focus on what's most important to you.
With nutrition in Dineamic's DNA, all meals are approved by a dietician and nutritionist. Keeping Australia beautiful is at the forefront, Dineamic operates out of a 100% carbon neutral kitchen, prioritises low food miles, minimises waste by cooking to order, and uses Halo Packs made from recycled cardboard, reducing their plastic consumption by 92%!