GTR announces speakers for its 2017 trade forum in Australia
Australia Trade Forum 2017
May 29, 2017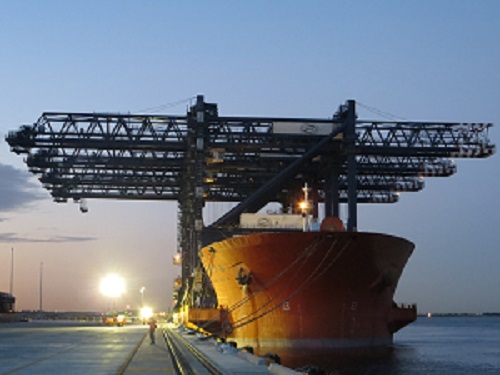 Global Trade Review (GTR), the world's leading news source, publisher and event organiser for the global trade, commodity, export and supply chain finance industries, returns to Sydney for its annual forum. The Australia Trade Forum will take place at the Sofitel Hotel Wentworth in Sydney, Australia on May 29.
Capitalise on exciting new opportunities for trade and investment in Australia, while meeting with leading representatives all in one day.
A corporate-focused gathering bringing together all sectors involved in international trade, the event will report on developments in global markets and their impact on Australian trade, and explore what the future may hold for Australia's corporates and exporters.
Supported by Westpac, XL Catlin, Australia Chamber of Commerce and Industry, Export Council of Australia, ICC Australia, amongst many others, join us for a day of discussion, debate and networking with the market's trade experts.
The conference will discuss topics including:
›› Putting the spotlight on Australia: Policy updates, commodity outlook and future developments amidst the economic volatility
›› The big picture: An analysis of the macroeconomic environment, trade rebound and its impact
›› What's next for Australia's corporates? Reviewing challenges and opportunities that Australian corporates are facing, across procurement, treasury and supply chain management
›› Digitisation, technology and trade: An update on the new technologies for trade and financing industries and the bright opportunities they bring for Australia
›› Supply chain financing: Current challenges, opportunities and risks across SC financing, new solutions and the latest innovations driving digitisation
›› Trade and commodity financing: Mechanisms, structures and evolving risk management strategies
›› Traders' roundtable: Navigate the challenges of Australia's commodity-based economy (trade volumes, policies, regulations, environmental and political factors)
›› Infrastructure financing: Reviewing the importance of investing in infrastructure to help increase production, and understanding future investment opportunities
›› Working capital optimisation: Evaluating, managing and reducing liquidity currency risk, increasing supply chain efficiency, ensuring greater working capital optimisation
The forum will feature Chief Executive Officers, Directors, Global Heads and industry personalities from key global financial and corporate institutions across the industry – providing insight into the intricacies of Australia Trade.
Bryan Clark, Director, Trade & International Affairs, Australian Chamber of Commerce & Industry (ACCI)

Peter Candy, Group Treasurer, GrainCrop

Jaydeep Solanki, CEO, General Motors

Lisa McAuley, CEO, Export Council of Australia (ECA)

Laurie Walker, CEO, Northern Australia Infrastructure Facility (NAIF), Government of Australia

Justin Smirk, Senior Economist, Westpac Group

Adnan Ghani, Global Head of Trade, Westpac Group

Iikka Tales, Managing Director, APAC, Greensill

Melinda Gibson, Senior Treasury Analyst, Jemena

Sophie Krantz, Director, BlueScope

Peter Gilbert, Chief Executive Officer, BPL

Andrew Beechey, Head of Global Financial Risks, Liberty International Underwriters

Kirk Cheesman, Managing Director, NCI

James Tiarks, Political and Credit Risk Broker, Texel Asia

Rajiv Biswas, Senior Director & Chief Economist IHS
Don't miss your chance to join leading Australia corporates and trade specialist for a day of discussion, debate and networking. For a free corporate pass (available to those who are exporters, importers, manufacturers, distributors, traders & producers of physical goods only) or press who are interested in attending this event, please contact Elisabeth at Espry@gtreview.com. For more information, visit the Australia Trade Forum page here.



"An informative conference assisting SMEs in understanding and sourcing supply chain finance solutions."
C van Loo, Ellton
"A great opportunity to hear from customers and industry experts."
J Perego, Westpac
"Great quality speakers and great topics."
H Janakiraman, ANZ
"Something for everyone. The breadth of representation and depth of experience brought rich and nourishing conversation to the fore."
G Sparrow, Westpac Banking Corporation
"Excellent networking opportunity, with a wider scope than just Australia."
S Hansen, RBS
"Another fantastic opportunity to meet and discuss our industry."
A Speers, HSBC
"Thought provoking, detailed and wide-ranging analysis. Excellent presentations."
M Smith, East & Partners
About Global Trade Review (GTR): GTR is the world's leading news source, publisher and event organiser for the global trade, commodity, export and supply chain finance industries, with offices in London, Singapore and Rio de Janeiro. Its market-leading magazine Global Trade Review (GTR) provides essential news and analysis for these sectors, supported by various conferences, workshops and networking events held in over 25 locations around the world. For more information about attending the event, please contact Elisabeth Spry at espry@gtreview.com or visit www.gtreview.com.