Written by Candice Meisels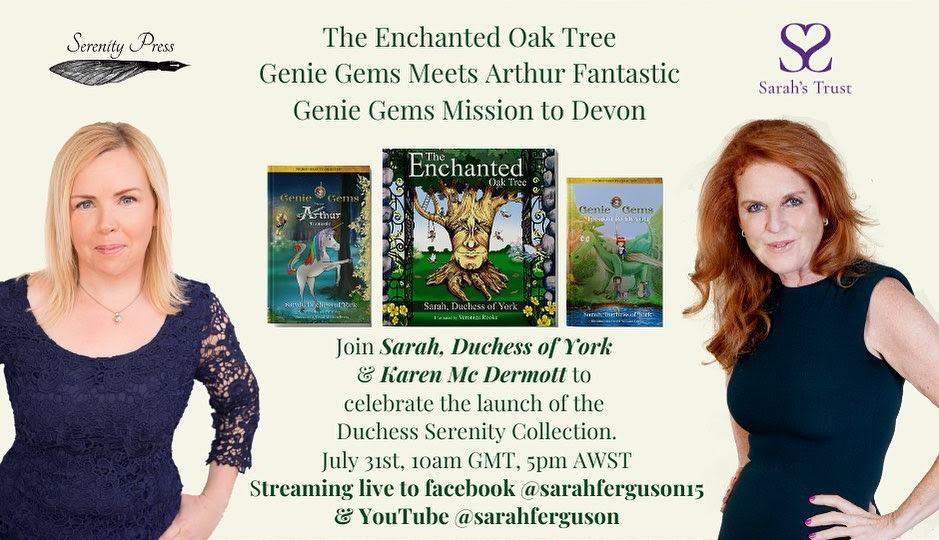 31st July 2020, Serenity Press, is proud to officially launch the first three books in Duchess Serenity Collection. Karen McDermott, Founder of Serenity Press will interview Sarah, Duchess of York live on Facebook @sarahferguson15 and YouTube @sarahferguson Friday 31st of July at 5 pm AWST, 7 pm AEST and 10 am UK time.
The Enchanted Oak Tree written by Sarah, Duchess of York, and illustrated by Veronica Rooke, is a charming tale about an old oak tree that is not what it seems.
Sarah, Duchess of York states: "I was brought up on a farm in Hampshire with oak trees surrounding me. I have a fascination with the oak tree, which seems so reliable, and I always feel safe near them. The eyebrows on my oak tree are a tribute to my late father's very bushy eyebrows. I wanted to honour the fabulous childhood he gave me playing amongst the oak trees at Dummer."
Open the antique gate and enter a secret garden where a world of enchantment and wonder awaits…Children will delight in this charming tale about an old oak tree that is not what it seems, for frolicking fairies make their home among its sheltering branches. When the fairies spy from on high that Lily the Lamb is in trouble they discover it will take more than a sprinkle of magic dust to free her. Perhaps the Butterfly Catchers will know what to do. Can they help to return calm and harmony to the Secret Garden and all the creatures who dwell in it? Will they come to see the old oak tree for what it truly is - the heart of this special place? An enchanting, heart-warming tale from Sarah, Duchess of York.
RRP $18.95 Soft Cover
RRP $26.95 Hard Cover
Genie Gems meets Arthur Fantastic is a magical soft cover chapter book for 6-8-year old children, illustrated by David William Press.
Sarah, Duchess of York says: "I love horses and I want to bring magic into people's lives. Arthur Fantastic is about a very colourful unicorn, but because he is different, he doesn't fit in. All the brown horses who live in the field with him, believe Arthur is weird and tease him. 
I strongly believe that there needs to be more kindness in the world. Why should someone be mocked because they have ginger hair, a mole on their chin, or a cleft palate, for example. I want children to see that it is okay to be different.
The book tells the story of how Arthur goes in search of Happy. On the way, he makes friends and learns valuable lessons. He is helped by Genie Gems. Happy is made up of many different strands, not just one thing. You will see the plaited ribbons (like the Maypole) where Happy is many different strands plaited together... When Arthur returns to the field of horses, he transforms their lives."
 
A delightful tale full of magic, wonder, and whimsy from Sarah, Duchess of York.

Arthur the unicorn feels like an outsider in the meadow where the horses see only his difference and not his magnificence. They don't believe in unicorns and magic and they haven't smiled for so long they have forgotten how to. Sometimes Arthur is so lonely he wishes he were ordinary instead of special. There is only one thing for him to do - leave the meadow and go in search of 'happy'. If he can bring 'happy' back to the grumpy horses, surely, they will want him to join the herd. Arthur's quest takes him deep into The Magic Forest where he encounters magical characters and makes new friends who each give him a special gift as he follows his dream. Will Genie Gems and her Sword of Truth help Arthur Fantastic combine the essence of the coloured ribbons to uncover their true meaning?