The RBA has kept interest rates on hold. Here's why it'll be cautious from here on
Written by

Peter Martin, Visiting Fellow, Crawford School of Public Policy, Australian National University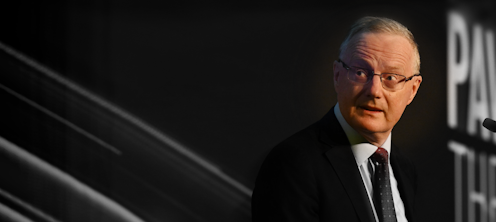 The Reserve Bank decided to keep interest rates on hold at 4.1% because it thinks there's a chance – just a chance – it has lifted them all it needs to.
In his statement released after Tuesday's board meeting, Governor Philip Lowe said while inflation was still too high and set to remain so for some time yet, it had "passed its peak[1]".
Growth in the Australian economy had slowed and labour market conditions had eased, although they remained tight.
After 12 near-consecutive rate hikes, and in light of the "uncertainty surrounding the economic outlook", it had decided to wait at least a month before hiking again until it knew more about the impact of what it has done on inflation and the health of the economy.
And when you compare Australians' experience of rising rates with other countries, the Reserve Bank has already done more than many people realise.
Rising rates have hit Australian borrowers harder
Criticism of Australia's Reserve Bank for not pushing up its cash rate as far as other countries[2] overlooks an important difference between Australian borrowers and borrowers in those countries.
Canada has lifted its central bank rate from close to zero to 4.75%[3], Britain to 5%[4], the US to just above 5%[5] and New Zealand to 5.5%[6].
Yet Australia's increase – from close to zero to 4.1% – has caused Australian borrowers much, much more pain[7] than borrowers in those other countries.
That's because an exceptionally large proportion of Australian mortgage holders are on variable rates: roughly 70%[8]. That's compared to 35% in Canada, 15% in the UK, 12% in New Zealand and less than 5% in the United States.
Read more: Why the Bank of England's interest rate hikes aren't slowing inflation enough and what that means for mortgages[9]
In the words of Australia's Reserve Bank: "interest rates on loans with very long fixed-rate terms tend to be less sensitive to changes in the short-term rates".
Back in February, the Reserve Bank's estimate was that the interest rates actually paid on Australian mortgages had climbed two percentage points[10] since it began pushing up rates.
In contrast – as this Reserve Bank chart shows – the rates actually paid in New Zealand had climbed by one and half percentage points, the rates in the UK by just half[11] a percentage point, and the rates in the United States by very little at all.
Increases in mortgage rates actually paid
Months since the official rate began climbing. 100 = one percentage point
Read more https://theconversation.com/the-rba-has-kept-interest-rates-on-hold-heres-why-itll-be-cautious-from-here-on-208917