China's status as a developing country gives it few benefits in the World Trade Organisation
Written by

Henry Gao, Associate Professor of Law, Singapore Management University
Whether China is a "developing" or a "developed" country for the purposes of the World Trade Organisation matters a lot to the US president.
President Donald Trump ignited a new front in the US-China trade war in July by tweeting that the world's richest nations were masquerading as developing countries to get special treatment.
They were "cheating[1]", according to Trump.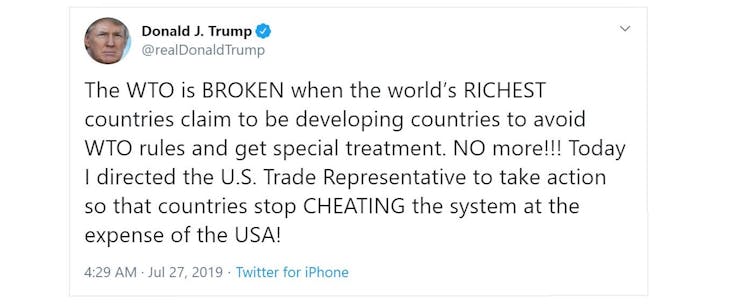 Authors: Henry Gao, Associate Professor of Law, Singapore Management University
Read more http://theconversation.com/myth-busted-chinas-status-as-a-developing-country-gives-it-few-benefits-in-the-world-trade-organisation-124602