Business owners' control of their work-life balance is the fine line between hard work and hell
Written by

Park Thaichon, Lecturer and Cluster Leader, Relationship Marketing for Impact Research Cluster, Griffith University
We live in a society in which people are trying to do more each day. Both work and life are worthy competitors for time. Yet the complex demands of modern society have redefined the notion of work-life balance[1].
Work-life balance has different meanings for different people and is often linked to individual preferences. We interviewed franchised and independent business owners in Australia to understand their work and life priorities.
Although not always aware of it, most people in small business reconcile competing work and life demands on an ad hoc basis. This is because a variety of reasons motivate small-business ownership.
Most owners, however, want control. Being one's own boss, having the freedom to make decisions and determining one's own rewards are key determinants of control. All are important to business owners.
Work and life priorities
Remarkably, only six of the 30 business owners we interviewed considered work-life balance important when establishing their businesses. Five who had families clearly stated that their desire and ability to allocate time to family drove their choice to be in business.
Many owners were unable to articulate where their lives were out of balance, although they expressed concern about having to skip or compromise on family and social activities. They used terms such as time poor, burdened and frustrated to describe their feelings when juggling priorities.
Some owners had not connected their state of frustration with their lack of opportunity to allocate time effectively.
One said:
Getting up to go to work because you want to. Knowing there's a light at the end of the tunnel, knowing you're in control of your own destiny… I kid you not, it has been three years of hell.
However, many owners admitted not having previously recognised this as a work-life balance issue.
This suggests it is highly likely that work-life balance is a concern for them although they saw it more in terms of excessive work demands rather than forgone opportunities to participate in other esteemed activities.
The table below reports the most common responses from business owners regarding their attitudes toward work-life balance and prioritising activities.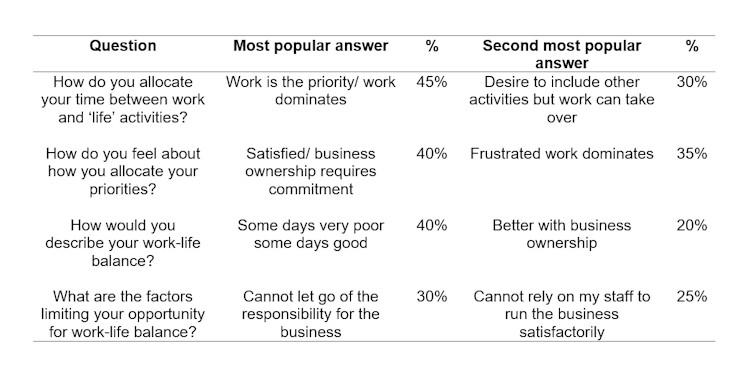 Authors: Park Thaichon, Lecturer and Cluster Leader, Relationship Marketing for Impact Research Cluster, Griffith University
Read more http://theconversation.com/business-owners-control-of-their-work-life-balance-is-the-fine-line-between-hard-work-and-hell-100762