Liven rewards app announces world's first integration with ApplePay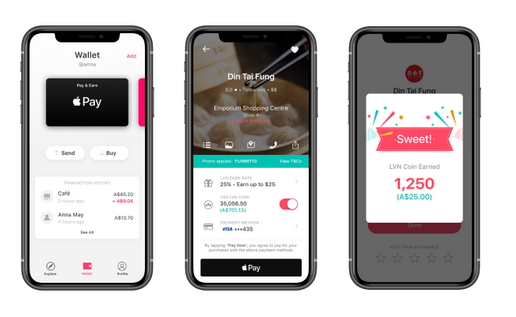 With the digital wallet movement firmly in full swing, Australia's leading dining rewards app Liven has today announced its in-store invisible payments integration with ApplePay. 
Liven is the first to offer ApplePay in this way and will reward users 10-35% on every transaction. Users can simply tap once in the Liven app at the restaurant and their point of sale system completes the rest of the transaction, without the user needing to bring their phone to the counter (NFC), or scan a QR code, or even be at the terminal, as they can pay from the table.
Today Apple featured Liven on the back of these recent developments as its national App of the day. 
This gives Australia's 600,000 Liven users the simple and secure option to skip the more lengthy process of adding their credit card details to the app, and instead manage their payments via ApplePay. It means a seamless, Uber-like experience in retail, but with ApplePay, so not only does it speed up the usual onboarding process, but also adds another layer of security and trust for customers. 
Shahrooz Chowdhury, Chief Product Officer at Liven, said he was delighted with the recognition and support from Apple to build momentum for the mass adoption of Liven's technology, and pleased to be able to offer customers more convenience and flexibility with this latest offering. 
"At Liven, we're constantly looking at new ways to improve customer dining experiences. Dining out is a way of life in Australia, and payments shouldn't just mark the end of an experience. Rather, they should be the gateway to many more."
"Offering the convenience of ApplePay together with our unique invisible payment experience, on top of the value of our rewards platform, is a crucial step forward for us in creating something that is not only adoptable but highly scalable; it's something that we will take globally."
"It's a wonderful experience to tap once in Liven and then walk out of the restaurant with your phone in your pocket and know that the bill will be taken care of. It's just like getting out of an Uber and not worrying about payment."
Mr Chowdhury pointed to a recent statement from industry association Restaurants and Catering Australia (RCA) which encouraged people to either pick up their own food or dine in at their favourite restaurants, rather than using a delivery service.
"It's no secret that takeaway giants are taking huge commissions from local businesses. We hope that our unique integration with ApplePay helps to give the power back to Aussie business owners by getting more diners through the door and offering them ultimate convenience, rewards, and payment flexibility." 
Mr Chowdhury said that over 600,000 people are currently using Liven at over 1,000 venues across Australia.
"As the only Aussie startup to qualify for Richard Branson's Extreme Tech Challenge in 2019 and then go on to win two categories gave us the conviction that there's no reason why Australia shouldn't be leading the world in payments innovation."
"This marks the beginning of a deep roadmap of disrupting the world of payments, and we've got a number of exciting updates to share in the coming 12 months. Users can expect to see more dynamic rewards that energise the marketplace, personalised discoveries tailored to preferences, and more gamified elements, that distance Liven payments from traditional app and card payments. We're building the future of money where currency has its own memory and intelligence and innovating the in-restaurant dining experience, and it's only just the beginning," concluded Mr Chowdhury.
About Liven
Liven is a simple way to earn huge rewards every time you pay for your meal. It's Australia's biggest loyalty-based payment network creating the world's first behavioural gamification layer for the offline world. Launched in 2015, LivenPay now connects more than 600,000 foodies and over 1,000 restaurants, where users earn 10-35% in instant digital currency rewards on every easy one-tap payment they make.

A gamified and personalised payment platform built on an intelligent loyalty engine and powered by their own currency, LivenPay won Sir Richard Branson's 2019 Extreme Tech Challenge with millions in LVN rewarded, sent and spent within the Liven Network.

They've leveraged intelligent partnerships with leading Point of Sale (POS) terminal providers to achieve a technical reach of more than 25,000 venues to drive acceptance in restaurants, cafes and bars in Sydney, Melbourne, and now Brisbane, including fan favourites Din Tai Fung, Gelato Messina, CoCo Fresh Tea and Juice, NeNe Chicken, Roll'd, MoVida, Maha, 8bit Burger, Gotcha Fresh Tea and many more.