Inflation hits 3.5%, but one high number won't budge the Reserve Bank on interest rates
Written by

John Hawkins, Senior Lecturer, Canberra School of Politics, Economics and Society and NATSEM, University of Canberra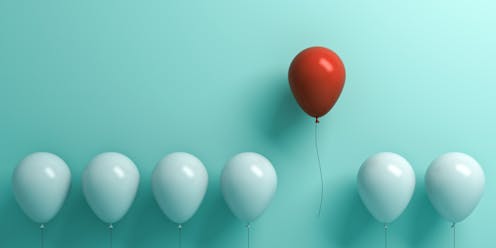 Australia's Consumer Price Index[1] rose 1.3% in the three months to December, bringing inflation for the full 2021 year to 3.5%.
This is above the Reserve Bank of Australia's medium-term target[2] range of 2-3% inflation. It will excite speculation about the central bank lifting interest rates far sooner than 2024, as the bank's governor Philip Lowe suggested[3] was most likely in 2020.
But don't expect Lowe and the Reserve Bank's board to be spooked into a rate rise so easily.
Central banks like a little inflation but not too much. History shows prices either falling or increasing too rapidly are bad for an economy. When inflation rises above the sweet spot, the normal response of a central bank would be to cool demand by lifting interest rates (through the interbank interest rate known as the cash rate[4], which then flows into many other interest rates such as on home loans).
These, however, are not normal times.
The CPI (which measures inflation using a weighted "basket"[5] of consumer goods and services bought by the typical household) has been distorted by the COVID-19 pandemic and government responses.
Read more: What's in the CPI and what does it actually measure?[6]
As the Australian Bureau of Statistics notes, the two biggest contributors to the CPI lift have been automotive fuel[7] and new dwelling purchases.
Fuel prices fell markedly due to people driving less, and have now rebounded to an all-time high. The federal government's HomeBuilder grant scheme[8] introduced as part of its COVID-19 response distorted the cost of buying new homes.
The Reserve Bank therefore concentrates on a measure of "underlying inflation[9]", which is less affected by atypical movements in a few prices. The ABS measures this using a "trimmed mean" – excluding those items with the largest and smallest price increases before taking an average of the remainder.
Read more https://theconversation.com/inflation-hits-3-5-but-one-high-number-wont-budge-the-reserve-bank-on-interest-rates-175045