Should the government keep running up debt to get us out of the crisis? Overwhelmingly, economists say yes
Written by

Peter Martin, Visiting Fellow, Crawford School of Public Policy, Australian National University
Overwhelmingly, the 50 leading Australian economists surveyed by the Economic Society of Australia and The Conversation ahead of Thursday's economic statement[1] want the government to keep spending to support the economy — even if it means a substantial increase in debt.
The question is the third asked in the Economic Society-Conversation monthly poll[2], which builds on a series of polls conducted by the society since 2015.
The economists polled were selected for their preeminence in the fields of microeconomics, macroeconomics, economic modelling and public policy. Among them are former and current government advisers and a former and current member of the Reserve Bank board.
Each was asked whether they agreed, disagreed, or strongly agreed or strongly disagreed with this proposition:
Governments should provide ongoing fiscal support to boost aggregate demand during the economic crisis and recovery, even if it means a substantial increase in public debt
Only three of the 50 economists polled disagreed with the proposition, none of them "strongly".
It is one of the starkest results in the survey's five-year history.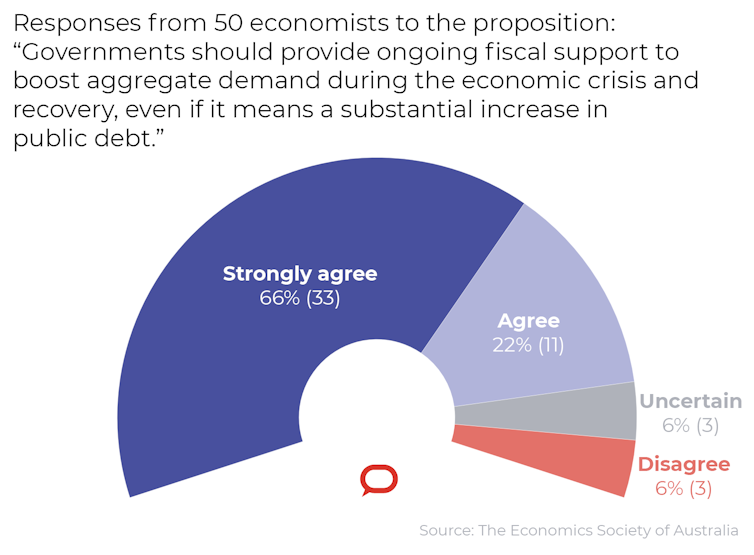 Authors: Peter Martin, Visiting Fellow, Crawford School of Public Policy, Australian National University
Read more https://theconversation.com/should-the-government-keep-running-up-debt-to-get-us-out-of-the-crisis-overwhelmingly-economists-say-yes-143089