Stages 1 and 2 of the tax cuts should pass. But Stage 3 would return us to the 1950s
Written by

Danielle Wood, Program Director, Budget Policy and Institutional Reform, Grattan Institute
The first item of business when parliament resumes today will be the proposed tax cuts.
They are actually three rounds of tax cuts, up to half a decade apart – each very different in its cost, beneficiaries and rationale.
The government's refusal to "split the bill" holds the first and most sensible of the three hostage to the fate of the third and least affordable.
Stage 3 is not due to be delivered until 2024-25, in the lead-up to the election after next.
Stage 3 costs many times Stage 1
All three stages are already legislated. What's before the parliament now is supercharging each, boosting the cost of Stage 1 by two thirds, increasing the cost of Stage 2 by half, and tripling the cost of Stage 3.
Stage 1, the Low and Middle Income Tax Offset (the so-called "lamington[1]") was set to cost around A$20 billion over four years. The boost, extending it to a tax offset of up to $1,080 for taxpayers earning up to $126,000, will cost an extra $14 billion.
Stage 2, which largely compensates low and middle income earners for the withdrawal of the lamington in 2022-23 while extending the benefits to high-income earners was set to cost $87 billion out to 2029-30. The boost would cost another $45 billion.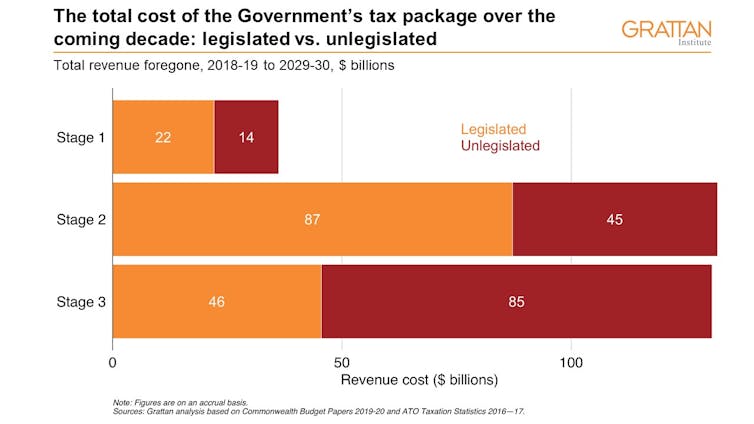 Authors: Danielle Wood, Program Director, Budget Policy and Institutional Reform, Grattan Institute
Read more http://theconversation.com/stages-1-and-2-of-the-tax-cuts-should-pass-but-stage-3-would-return-us-to-the-1950s-119637