Fairness isn't optional. How to design a tax system that works
Written by

Fabrizio Carmignani, Professor, Griffith Business School, Griffith University
This is part of a major series called Advancing Australia, in which leading academics examine the key issues facing Australia in the lead-up to the 2019 federal election and beyond. Read the other pieces in the series here[1].
Any discussion of the tax system requires a common understanding that its purpose goes beyond revenue.
To see this, ask whether we would be willing to raise as much revenue as we do now by simply requiring each resident and business to pay A$16,400 a year, with no further complications.
We could do this. It would generate the A$450 billion the Commonwealth raises now.
And it would be appealing in some ways. It would minimise tax evasion. There would be no exemptions, no tax returns, no loopholes. And payment would be easy to monitor. It would also save the taxpayer the cost of submitting tax returns and the government the cost of checking them.
We all want some fairness
People who earn more than A$76,000 would be delighted, because they would pay less tax than they do now.
Households with people who earn much less would be less happy. Each child, no matter how young, would have to pay A$16,400. A household with two parents (one working) and one child would have to pay twice as much as it does now.
Unemployed Australians would pay the same as mining tycoons. Mum-and-dad businesses would pay the same as large corporations.
But we wouldn't accept such a system, because it wouldn't be fair. And that's not just because fairness is one of our core values.
Inequality has an economic cost. Modelling by staff of the Organisation for Economic Cooperation and Development (OECD) shows that a 1% increase in a nation's inequality lowers its gross domestic product by between 0.6% and 1.1%[2].
The researchers find that beyond a certain point growing inequality can undermine the foundations of market economies and lead to inequalities of opportunity. They report[3]:
This smothers social mobility, and weakens incentives to invest in knowledge. The result is a misallocation of skills, and even waste through more unemployment, ultimately undermining efficiency and growth potential.
Progressivity helps
Almost all developed countries use the tax system to fight inequality, by increasing the rate of personal income tax as taxable income grows. In a typical "progressive" personal income tax system the first $5000 earned might be taxed at ten cents in the dollar, while subsequent earnings might be taxed at 20 cents in the dollar. The result is that higher earners pay a greater proportion of their earnings in tax.
Australia has such a system. Our personal income tax system is more progressive than most of the 36 OECD members[4].
But it has been getting less progressive over time.
A standard measure is the difference in proportion of earnings devoted to tax (the "tax wedge") for high earners on 167% of a nation's average income and low earners on 67% of the average. The greater the difference, the more progressive the system.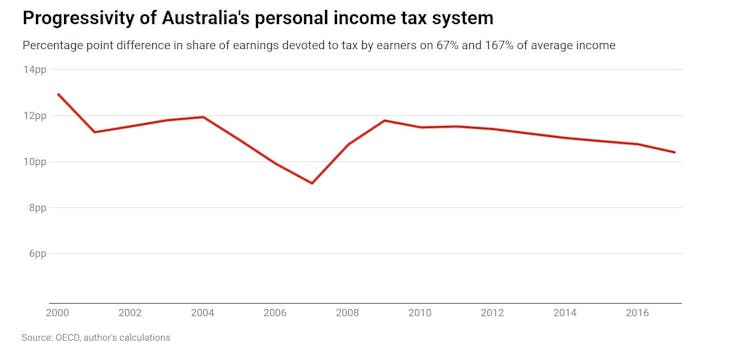 Authors: Fabrizio Carmignani, Professor, Griffith Business School, Griffith University
Read more http://theconversation.com/fairness-isnt-optional-how-to-design-a-tax-system-that-works-111493