what to do about the global pilot shortage
Written by

Stephen Fankhauser, Deputy Chair, Aviation Department, Faculty of Science, Engineering & Technology, Swinburne University of Technology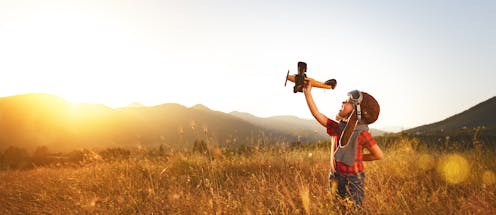 The world is running out of experienced pilots. Supply is not keeping up with the growing demand for air travel. In Australia the effects are already starting to bite.
Even flagship carrier Qantas is having problems. In recent months it has had to perform a very nimble tap dance to crew its vast fleet and maintain its extensive flight schedule.
In response Qantas has plans for one of the biggest pilot training programs in its history. It has just announced its first ever pilot training academy, training 250 pilots a year, will be based in Toowoomba. A second site, to train a similar number of pilots, is still to be announced.
Training this many pilots, though, will be a struggle. The academy will first have to find enough instructional pilots to deliver the required training flights.
Ruptured training pipelines
The reason airlines and other operators are in this predicament stems from the rupturing of the training pipelines that historically supplied pilots across all levels of the aviation industry.
Experience is everything in aviation. Qantas and Australia's other major carriers – Virgin Australia, Tiger and Jetstar – have mostly employed pilots with high levels of flying experience. Pilots gained that experience flying for regional airlines, charter operators and, critically, as instructors at flight training schools.
As pilots gained experience and progressed to more lucrative flying positions, newly qualified pilots were employed to replace them. Together with a trickle of ex-military pilots topping up the airlines, the whole system had sat more or less in equilibrium.
Read more: One flies planes, the other makes money: the two sides of aviation[1]
Reaching a tipping point
This equilibrium has been at tipping point for some time. Almost a decade ago (in 2009) a government white paper[2] predicted the training system would fail without remedial action.
Some measures were put in place, but not enough. Most of the weaknesses went uncorrected. It was only because of the Global Financial Crisis, which suppressed global demand for air travel, that crisis was delayed.
A leading indicator of system failure is a dearth of available experienced trainers, as flying school instructors move into airline employment. Without these instructors, flight schools struggle to train new pilots to feed the industry from the bottom up.
In Australia there is no mechanism to maintain this vital pool of flight instructors. There are no formalised career pathways and minimal financial support to those looking to teach others to fly. A bespoke airline training scheme won't remedy the problem if its pilots all go straight into the airline's employ.
Taking care of training pathways
In the US the system is somewhat different. Despite substantial evidence to show that airline cadetship programs posed no negative impact to flight safety[3], in 2013 the US Federal Aviation Administration chose to stipulate a substantial minimum level of experience a pilot must have to be employed by a major airline.
While this has exacerbated the pilot shortage issue for American airlines, it has also forced the industry to create formal pathways to train new pilots and help freshly qualified pilots progress to an airline career. Such pathways often include a period of employment as a flying instructor[4].
A similar "instructing pathway" needs to be a central part of Australia's airline training programs if they are going to be sustainable.
Read more: We're flying into an aviation skills crisis, with safety under the radar[5]
Government also has a role to play, as noted by the expert panel[6] charged with recommending strategies for a sustainable and successful aviation training sector in Australia. A key issue is education funding.
Sky-high student costs
The cost to become a commercial pilot is comparable to that of becoming a doctor or a veterinarian. A university-trained commercial pilot with a flight-instructor rating will pay more than $140,000 in fees.
But unlike those doing medicine or veterinary science courses, trainee pilots have never been adequately assisted by federal student subsidy and loan schemes such as HECS, FEE-HELP of VET Student Loans.
Recent amendments to the Higher Education Support Act[7] cap the maximum debt a student can have under the Higher Education Loan Program (HELP) at $104,440. The only exceptions are medicine, dentistry and veterinary science, where the cap is $150,000.
This effectively means students wanting to undertake a flight training degree need to find close to $35,000 upfront. The effect will be profound. Many talented potential pilots will not be able to pursue the career.
Over the horizon
Looking further into the future, we must find more ways to maintain the pilot training pipeline. Encouraging more female and Indigenous students to pursue the career would be a start. The numbers now are woefully low.
Read more: Life in a post-flying Australia, and why it might actually be ok[8]
Finally, the entire process of pilot training needs to be made more effective and efficient. Practices have remained essentially unchanged since flight training began.
Our future training systems must make pragmatic use of learning technologies and theory to enhance student progression, reduce failure and maximise the use of expensive aircraft resources. This requires investment.
In Canada, the training and simulation giant CAE, in partnership with the national and Quebec governments, is investing C$1 billion[9] over the next five years to develop the next generation of aviation training systems.
In Australia we need to recognise this opportunity for innovation and act now, before our pilot training system completely crumbles.
Authors: Stephen Fankhauser, Deputy Chair, Aviation Department, Faculty of Science, Engineering & Technology, Swinburne University of Technology
Read more http://theconversation.com/averting-a-plane-crash-what-to-do-about-the-global-pilot-shortage-102784