A quarantine-free trans-Tasman bubble opens on April 19, but 'flyer beware' remains the reality of pandemic travel
Written by

Michael Plank, Professor in Applied Mathematics, University of Canterbury
New Zealand's government today announced a long-awaited quarantine-free travel bubble[1] between New Zealand and Australia, beginning on April 19.
Provided there is no significant community outbreak in Australia, the risk of New Zealand importing cases of COVID-19 is very low. But should there be a community outbreak across the Tasman, the risk of bringing the virus into New Zealand could escalate rapidly, if travel numbers return to pre-COVID volumes.
This is why it will be critical to act swiftly if this happens.
Responding to a community outbreak
New Zealand and Australia have both had numerous outbreaks of COVID-19 originating from managed isolation facility or other border workers. Frontline border workers are being prioritised for vaccination in both countries, which will reduce the risk of this happening again. But it is still possible — and it's therefore crucial we have a solid resurgence plan.
The New Zealand response to a new community case in Australia[2] will be based on the same decision making we have seen used in response to community cases here. A new case with a clear link to the border poses a relatively low risk and can usually be managed by contact tracing without the need for restrictions. In this situation, travel could safely continue.
But, as our modelling[3] has shown, a new case with no clear link to the border indicates a higher risk of community transmission and undetected cases. In this scenario, travel from that state would be suspended until the risk diminishes.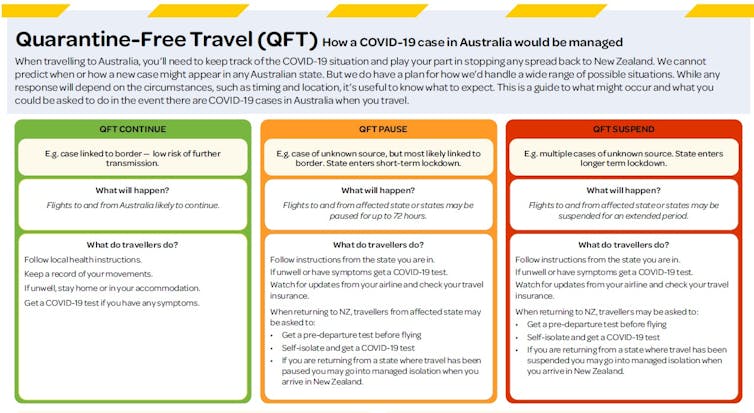 Read more https://theconversation.com/a-quarantine-free-trans-tasman-bubble-opens-on-april-19-but-flyer-beware-remains-the-reality-of-pandemic-travel-158423