Melbourne Abuzz With Spring Events
Written by

Jacqui Loftus-Hills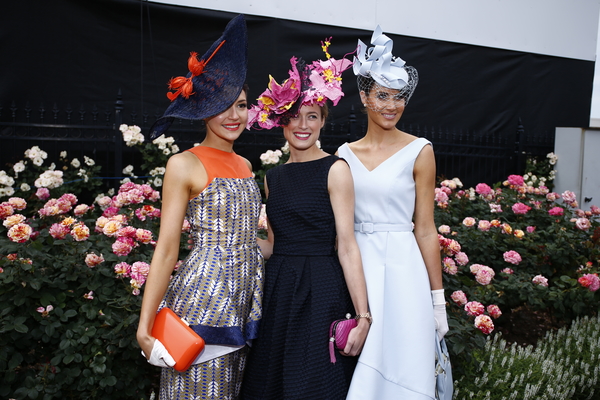 Melbourne's events calendar never rests. As the weather warms up, the city gets set to welcome a bevy of world class events. From fashion to theatre, sport to pop icons, dance, circus and more, there is something for fashion fiends, culture vultures and sports enthusiasts alike. Here are some of the highlights:
Melbourne Spring Fashion Week
Emerging and established designers, retailers and brands unite at the annual Melbourne Spring Fashion Week (MSFW, 26 August – 2 September 2016). New season styles are presented at a variety of runway shows with designers from Melbourne and Victoria at the fore, comprising 85 per cent of the content. For the first time ever, MSFW extends to regional Victoria with a series of events set to take place in Ballarat (2–4 September 2016) showcasing collections created by designers from the region, and a wool industry retrospective as well as MSFW highlights.
Spring Racing Carnival
Fillies, fashion and fanfare combine to create the iconic Melbourne Spring Racing Carnival (1 September – 27 November 2016). This 64-day string of must-attend events brings together the world's best thoroughbreds with the world's most stylish spectators. Race-goers flock from far and wide to get up close to the action during the Group One Races. Must-attend events include the BMW Caulfield Cup (17 October 2016), the William Hill Cox Plate (22 October 2016), Country Cups and of course 'the race that stops the nation', the Emirates Melbourne Cup (1 November 2016).
Melbourne Fringe Festival
This year's Melbourne Fringe Festival (15 September – 2 October 2016) is set to be the biggest ever, with 463 events taking place all over Melbourne. Performances by emerging and established artists from a diverse array of disciplines will entertain audiences of all ages. In addition to traditional performance spaces, the festival will transform two Melbourne restaurants into Fringe venues - Belleville Melbourne will host acts such as The Improv Conspiracy, and Fancy Hank's will host comedy acts.
Royal Melbourne Show
Established in 1848, the Royal Melbourne Show (17–27 September 2016) is a long-time tradition, attracting more than 450,000 visitors annually. Carnival rides, showbags, live music and family entertainment are among the most popular activities. In keeping with its rural roots, the real focus is on the thousands of animals that take centre stage at an array of events and pavilions. Those more interested in arts and craft are also well catered for with more than 4000 exhibits featuring everything from photography to biscuits.
Kylie On Stage
Kylie On Stage (late September 2016 – 22 January 2017) presents a range of Kylie Minogue's costumes and offers an insight into the design process. Celebrating the pop icon's highly successful concert tours, this free exhibition is drawn from Kylie's spectacular stage wardrobe and features costumes from tours dating back to 1989 alongside those worn during more recent tours. The world-first exhibition will showcase designs from the likes of Dolce and Gabbana, John Galliano, Karl Lagerfeld and John Paul Gaultier.
MPavilion
MPavilion is back for summer 2016 (5 October 2016 – 18 February 2017). This time, the temporary structure is designed by renowned Indian architect Bijoy Jain of Studio Mumbai and is 12 metres high, made of bamboo with a roof encased in earth representing the Australian landscape. Located in Melbourne's Queen Victoria Gardens, MPavilion acts as a design and cultural hub, and plays host to a series of talks, workshops, performances and installations.
Melbourne Festival
Over 18 days, Melbourne Festival (6–23 October 2016) serves up 62 events and 207 performances by some of the world's greatest theatre makers. With 10 world premieres, 18 Australian premieres, and events exclusive to Melbourne, the 2016 program features a spectacular line-up of dance, theatre, circus, contemporary and classical music, visual arts and free events - all curated for the first time by Artistic Director Jonathan Holloway. Events to watch out for include Lady Eats  Apple, Startrek: The Ultimate Voyage, Vertical Influences, Haircuts by Children, The Dark Chorus and David Bowie Nothing Has Changed - a tribute performance by the Melbourne Symphony Orchestra - as well as plenty of free outdoor family events and Melbourne Art Trams.
Viktor&Rolf: Fashion Artists
The National Gallery of Victoria (NGV) presents the fashion world of two design greats in Viktor&Rolf: Fashion Artists (21 October 2016 – 26 February 2017). The exhibition showcases the Dutch duo's 20-year career, featuring some of their most innovative work including more than 35 haute couture pieces, some of their earlier designs and a selection of work-in-progress. Developed in close collaboration with Viktor&Rolf and international guest curator Thierry-Maxime Loriot (of blockbuster exhibition The Fashion World of Jean Paul Gaultier) this is the first time the exhibition is displayed in the Southern Hemisphere.
Kinky Boots
The feel-good, multi award-winning musical Kinky Boots makes its Australian debut at Her Majesty's Theatre, Melbourne (from 23 October 2016). Featuring music and lyrics by pop icon Cyndi Lauper, and directed and choreographed by two-time Tony Award-winner Jerry Mitchell, Kinky Boots is renowned for having audiences dancing in the aisles by the end of the show. The production has been embraced worldwide since its official launch on Broadway in April 2013, winning six Tony Awards, including Best Musical.
A sensational sports line-up
The Australian Football League finals series (2 September – 1 October 2016) and Spring Racing Carnival (1 September–27 November 2016) is joined by some action-packed new additions to the sporting calendar in the latter half of 2016, including: 2018 FIFA World Cup Qualifier – Australia v Japan (11 October 2016), Fast5 World Series (29–30 October 2016), Australian Motorcycle Grand Prix  (21–23 October 2016), World Cup of Golf (24–27 November 2016), International Hockey Festival Melbourne (23–27 November 2016).
For more ideas and information, see here.