Telstra picks up Motorola in exclusive partnership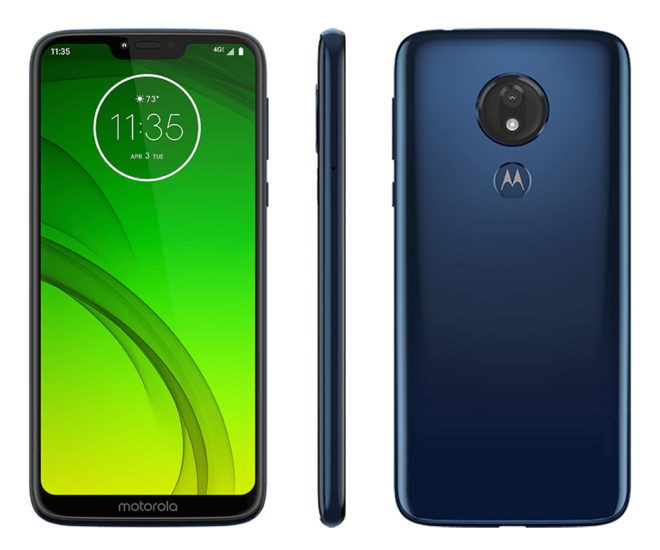 Motorola has today announced the launch of the new moto g7 power with Telstra. The moto g7 power is the latest Motorola handset to compliment the moto g7 family of smartphone devices, with the moto g7 power being made available from today on the Telstra network.
The device, which retails through Motorola online as a dual sim variant at $349, will also be available at Telstra as the exclusive carrier, as a single sim variant on a range of packages including a $59/month plan with zero upfront cost for the handset or $336 outright. 
Danny Adamopoulos, GM Sales, APAC for Mature Markets, Motorola, said "This is a momentous time for Motorola, and we are delighted to be partnering exclusively with Telstra, to bring the moto g7 power to more Australian customers."
The moto g7 power, with up to an incredible 3-days of battery life1, has a 6.2" HD+ display, 12MP rear camera and for corporate customers also carries  "Android Enterprise Recommended" (AER) status and meets elevated enterprise requirements making it simple for businesses to confidently select, deploy and manage Android devices.
These industry-leading accreditations demonstrate Motorola's commitment to supporting Australian businesses and helps tackle some of the challenges facing the modern-day mobile workforce such as poor battery-life and further establishes the reliability of the Motorola brand in the corporate space.
Kevin Teoh, Head of Consumer at Telstra said "We know many of our customers want affordable smartphone options with the latest software which is why we're excited to be introducing the moto g7 power, providing our customers with more choice when connecting to Australia's fastest mobile network."
Danny added, "The moto g7 power is one of the most competitively priced mid-tier smartphones in the market and we look forward to welcoming more customers and businesses to our Motorola family on the Telstra network."
For full information and specifications, visit the Motorola and Telstra websites:
https://www.telstra.com.au/mobile-phones/mobiles-on-a-plan/motorola/moto-g7
https://www.telstra.com.au/small-business/mobile-phones/mobiles-on-a-plan/motorola/moto-g7

Specs and availability:
moto g7 power ­on Telstra – Available on a $59/month plan with zero upfront cost.
Also available outright on Moto Online in dual-sim version for $349. Buy now: https://store.motorola.com.au/product/moto-g7-po
3-day battery life. An impressive 5000 mAh battery, then recharge quickly with TurboPower™.
Max Vision display. Ultrawide views on the 6.2″ HD+ display featuring a 19:9 aspect ratio.
Fast-focusing camera. 12 MP PDAF camera and an 8 MP front-facing camera.
Fingerprint reader. Unlock the phone instantly with a fingerprint reader.
Moto Experiences. Moto exclusive software that responds to natural gestures and haptic technology
About Motorola
Motorola created the mobile communications industry. Motorola invented most of the protocols and technologies that make mobile communications possible, including the first mobile phone and the first base station.
For the past 80 years, Motorola has thrived on invention; on finding new ways to solve problems. Today Motorola continues to look for new opportunities to change people's lives for the better through the mobility technology solutions.
All mobile phones are designed and manufactured by Motorola Mobility LLC, a wholly owned subsidiary of Lenovo.