Australian companies are facing more climate-focused ESG resolutions than ever before, and they are paying quiet dividends
Written by

Ian Ramsay, Emeritus Professor, Melbourne Law School, The University of Melbourne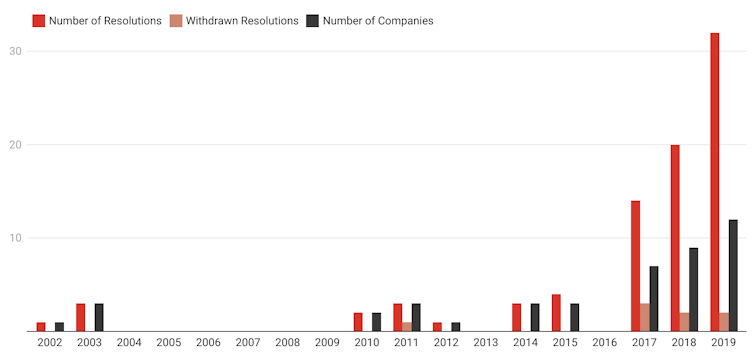 In 2020, for the first time in Australia, more than half the shareholders of a public company voted in support of a climate change resolution put forward by shareholders in the face of opposition from the company's board of directors.
The resolution, advanced at Woodside Petroleum's annual general meeting, called for the company to establish hard targets[1] to bring its own emissions and the emissions caused by the use of its products globally in line with the Paris Agreement to keep global warming below two degrees.
A similar resolution followed at this year's AGL annual general meeting, gaining the support of 52%[2] of the shareholders.
Although the Woodside vote was described as a "breakthrough moment[3]", it is part of an increase in shareholder activism around environmental, social and governance (ESG) issues that's been building for several years.
Our analysis[4] of shareholder ESG resolutions put forward in listed Australian companies between 2002 and 2019 finds they have increased in number, prominence and impact.
Shareholder ESG Resolutions per year
Read more https://theconversation.com/australian-companies-are-facing-more-climate-focused-esg-resolutions-than-ever-before-and-they-are-paying-quiet-dividends-170466