There's fewer of us in it, but for those who are, it's worse
Written by

Ben Phillips, Associate Professor, Centre for Social Research and Methods, Director, Centre for Economic Policy Research (CEPR), Australian National University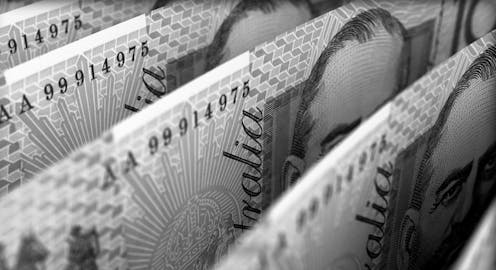 The good news from new research conducted by the Australian National University for Social Ventures Australia and the Brotherhood of St Laurence is that fewer of us[1] are in severe financial stress, by which we mean missing meals, seeking help from charities or being unable to heat our homes.
The bad news is that for certain types of households the proportion in stress is growing, and for many the stress is getting worse.
It is well documented[2] that JobSeeker households are faring poorly with high rates of poverty but less well documented that other working age households are also suffering from high financial stress.
We have used as a measure of severe stress answers to questions in the Bureau of Statistics household expenditure surveys in 1998, 2003, 2009 and 2015 about seeking assistance from charities, going without meals, and the ability to pay bills.
For households headed by wage earners and for age pensioners, financial stress remains low.
For households headed by recipients of non-age pensions such as disability, carers' and single parent payments, and for households headed by Australians on unemployment and related benefits, the proportion in stress has been climbing.
Severe financial stress by source of income
Authors: Ben Phillips, Associate Professor, Centre for Social Research and Methods, Director, Centre for Economic Policy Research (CEPR), Australian National University
Read more https://theconversation.com/financial-stress-in-3-graphs-theres-fewer-of-us-in-it-but-for-those-who-are-its-worse-159218