It's great to want wage growth, but the way we're going about it could stunt the recovery
Written by

Michael Keating, Visiting Fellow, College of Business & Economics, Australian National University
The Reserve Bank is going all out for wage growth "sustainably above 3%[1]" — the kind of wage growth Australia hasn't seen for the best part of a decade.
It has already committed itself to achieving an "actual[2]" inflation target, sustainably between 2% and 3%, saying it won't lift its cash rate[3] until that happens.
That's a substantial hardening of its earlier target, which was to merely see "progress towards" an inflation rate of 2% to 3%.
In board minutes[4] released this week it says that to get inflation to 2-3% it is likely wage growth will have to be "sustainably above 3%" — well above where it has been for the past seven years.
The bank received encouragement on Thursday with news of an extra 88,700[5] Australians in work and a dive in unemployment rate from 6.3% to 5.8%, but its minutes say that for wages to climb to where it wants them, tightness in the labour market would need to be "sustained".
Actual wage growth, low for years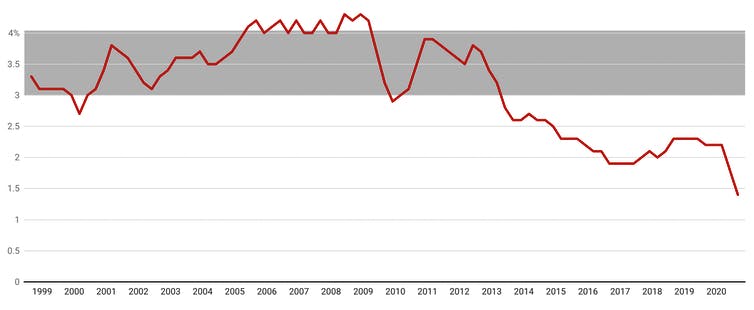 ABS
[6]
It means monetary policy (interest rates) is tied to a recovery in wage growth, something about whose timing we've little idea.
Things aren't as simple as the bank suggests
For decades now macroeconomic policy in Australia (and elsewhere) has been built around the idea of a stable relationship between the level of unemployment and the rate of inflation of both wages and prices – the so-called Phillips curve[7], named after the economist (and engineer) who first measured it.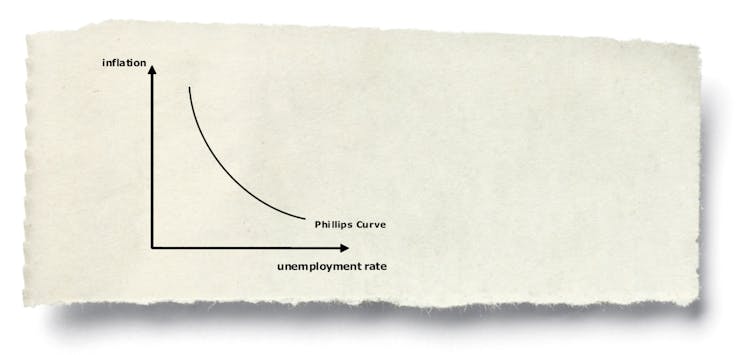 Authors: Michael Keating, Visiting Fellow, College of Business & Economics, Australian National University
Read more https://theconversation.com/its-great-to-want-wage-growth-but-the-way-were-going-about-it-could-stunt-the-recovery-157058