A whiff of pork in the government's great tourist ticket lottery
Written by

Isaac Gross, Lecturer in Economics, Monash University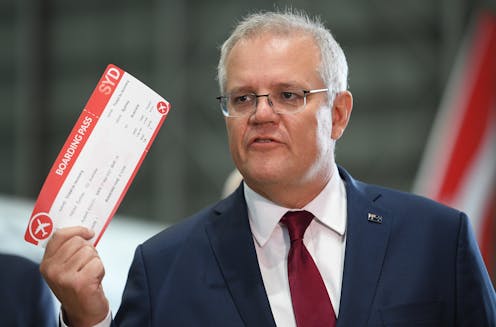 The Morrison government's plan to halve the cost of up to 800,000 air tickets for interstate travellers is a rescue package of sorts for Australia's tourism industry.
But the highly selective list of destinations – 13 were initially announced[1], though more may be added – suggests a bit of political pork has been included in the menu.
Under the scheme – the centrepiece of a A$1.2 billion "Tourism Aviation Network Support Program" – the government will subsidise tickets for interstate travel to these chosen destinations between April and July.
The government hopes this encouragement to travel interstate will help keep tourism-related businesses afloat while international borders remain closed. The government's assumption is international travel will start to resume after October. But that will depend on the progress of the national vaccination program.
Targeted support for the tourism sector is certainly warranted to fill the gap left by the JobKeeper program (which will wind down at the end of month). But this package can be fairly criticised for being arbitrary and skewed by a cynical eye on marginal seats.
Read more: Morrison government to subsidise holidaymakers in $1.2 billion tourism and aviation package[2]
In principle, a reasonable idea
The general idea of subidising air tickets to encourage more domestic tourism isn't necessarily bad.
While closing the border has cut off the flow of international tourists, it also means there are as many Australians not taking overseas holidays. Getting them to spend money on a domestic holiday instead would substantially alleviate the tourism sector's woes.
But the recession has naturally led most of us to tighten our belts, while state border closures have made us cautious about booking interstate holidays. By providing a short window in which flights will be cheap as chips, this package gives Australians an extra push to take a holiday this winter.
But its targeting is questionable
To get a sense of how well targeted the package is, however, we can look at Australian Bureau of Statistics data to get a sense of how local tourism industries have affected.
While the bureau doesn't count employees in the tourism sector directly, the accommodation and food services industry provides a useful proxy.
The following graph shows changes in the total number of hours worked in the accommodation and food services industry from November 2019 to November 2020 in each subsidised destination compared with the rest of its state. (The three Tasmanian destinations have been rolled into one.)
I've used hours worked by region instead of the unemployment rate so as to eliminate the effects of the JobKeeper program, which has kept many workers on payrolls even if they haven't been getting many shifts.
Fall in hours worked in the accommodation and food services industry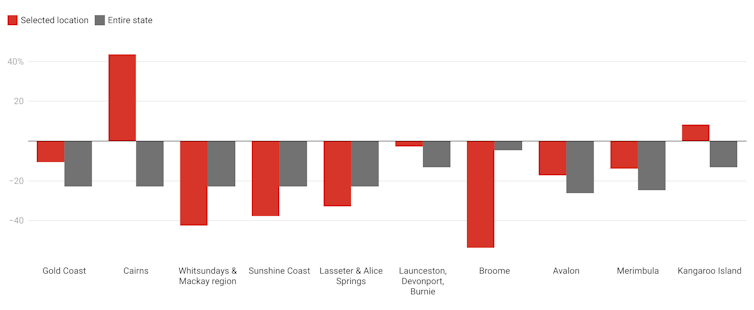 Authors: Isaac Gross, Lecturer in Economics, Monash University
Read more https://theconversation.com/marginal-advantage-a-whiff-of-pork-in-the-governments-great-tourist-ticket-lottery-157039