Five things you need to know about today's economic statement
Written by

Danielle Wood, Chief executive officer, Grattan Institute
Australia is living through the biggest economic and social disruption since the second world war. Today's budget update provides a stark reminder of just how big the economic and budgetary fallout really is.
If you don't have the appetite to wade through the 180-page economic statement[1], here are the five big takeaways.
1. The economy will be in the doldrums for a while yet
Australian gross domestic product is expected to fall by 3.75% in 2020, before rebounding to grow by 2.5% in 2021, leaving GDP still 3% below pre-COVID levels mid next year.
The global outlook is bleaker.
Global GDP is forecast to contract by 4.75 per cent in 2020, the worst decline since the Great Depression in the 1930s, before rebounding to grow by 5% in 2021.
Australia's official unemployment rate is now expected to rise from 7.4%[2] today to a peak of 9.25% by Christmas, as most firms move off JobKeeper and many Australians who are without work start looking again.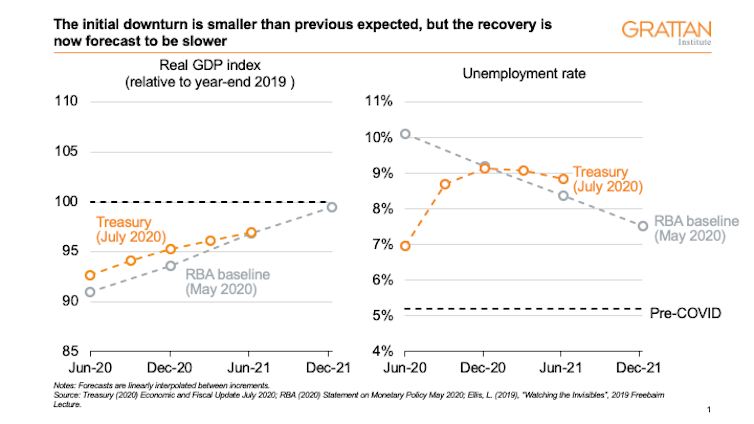 Authors: Danielle Wood, Chief executive officer, Grattan Institute
Read more https://theconversation.com/five-things-you-need-to-know-about-todays-economic-statement-143088