Australia's first service sector recession will be unlike those that have gone before it
Written by

Isaac Gross, Lecturer, Monash University
Australia is on the brink of its first recession in almost 30 years.
The Australian Bureau of Statistics will deliver the official economic growth figure for the March quarter on Wednesday[1].
If it is negative (as is likely because of the downturn and the bushfires, but not guaranteed because of the surge in spending as Australians stocked up on essentials in March) and is then followed by another negative result in the June quarter (which is all but certain) Australia will be in what some people regard as a technical recession[2].
But the technicalities don't matter. Close to 20%[3] of Australia's labour force is either unemployed or underemployed, something that dwarfs previous recessions.
Data already released suggests it will be different in other ways; important ones with important implications.
It will be our first "service sector" recession.
Recessions are usually defined by large falls in investment; in new cars, new houses and new businesses.
Read more: Which jobs are most at risk from the coronavirus shutdown? [4]
As a result, in the early 1990s recession construction and manufacturing businesses were devastated. By contrast, employment in social services, education and food services continued to grow throughout the recession.
This time will be different.
Between March 14 and May 2 some 27%[5] of the jobs in the accommodation and food services industry vanished, 19% of the jobs in the arts and recreation industry, and 11% of the jobs in professional and technical services – all well above the 6.5% and 7% of jobs lost in construction and manufacturing.
Jobs lost by industry, March 14 to May 2 ,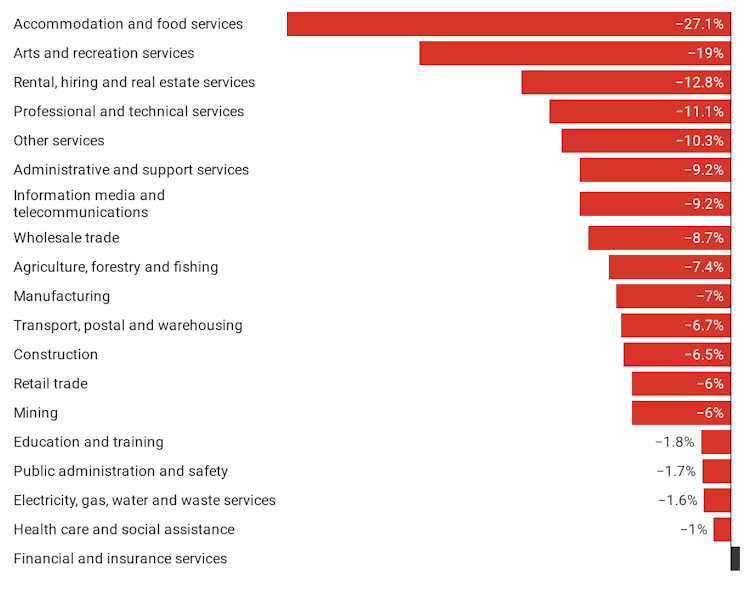 Authors: Isaac Gross, Lecturer, Monash University
Read more https://theconversation.com/australias-first-service-sector-recession-will-be-unlike-those-that-have-gone-before-it-137994