how will it work, who will miss out and how to get it?
Written by

Rebecca Cassells, Associate Professor, Bankwest Curtin Economics Centre, Curtin University
The A$130 billion $1,500-per-fortnight JobKeeper payment will benefit six million Australians for six months, with payments expected from May 1.
Eligible businesses include not-for-profits and businesses with turnovers of less than $1 billion per year whose turnover is down 30%[1]. Businesses with turnovers of more than $1 billion per year need to have lost 50% of turnover.
Eligible workers include full-time and part-time employees and sole traders as well as permanent visa holders and several other visa categories.
Workers don't apply on their own behalf. They go to their employers, who will apply to the Tax Office[2].
Read more: The key to the success of the $130 billion wage subsidy is retrospective paid work[3]
But casual workers are eligible only if they have been with their employer for 12 months or more.
Our calculations[4] suggest about 950,000 casual workers will be ineligible, because they have been with their most recent employer for less than 12 months, something common among casual workers.
Most are employed in the accommodation and food services, retail trade, and health care and social assistance industries. More than half are women.
Casual workers employed less than 12 months with current employer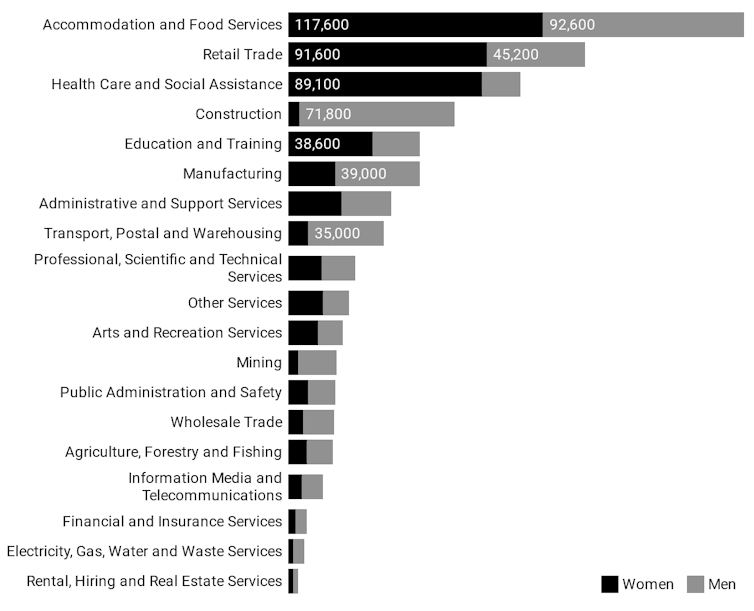 Authors: Rebecca Cassells, Associate Professor, Bankwest Curtin Economics Centre, Curtin University
Read more https://theconversation.com/jobkeeper-payment-how-will-it-work-who-will-miss-out-and-how-to-get-it-135189