control of the global computer-chip industry
Written by

Clinton Fernandes, Professor, International and Political Studies, UNSW
Silicon Valley may now be more popularly associated with software companies such as Google and Facebook but it takes its name from the material most used to make semiconductors.
Semiconductors – or computer chips – power everything from mobile phones to military systems. The semiconductor industry sits at the centre of the modern world.
This point is key to appreciating what's going on in the US government's battle with Chinese technology giant Huawei.
The US actions do more than just keep Chinese technology away from critical telecommunications infrastructure – something it has lobbied US allies to emulate.
Read more: Explainer: why Chinese telecoms participating in Australia's 5G network could be a problem[1]
They also choke off the global supply of semiconductors, and technology to make semiconductors, to Huawei, thereby limiting China's rate of technological progress, economic development and ability to compete with the US.
Executive ban
In May US president Donald Trump signed an executive order[2] blocking US technology companies dealing with Huawei. The order bans "any acquisition, importation, transfer, installation, dealing in, or use of any information and communications technology or service" without special approval.
Among the effects is that Google has stopped licensing its Android mobile operating system to Huawei, limiting the Chinese company's ambitions in the global phone market.
But arguably the biggest consequence is blocking the sale of US semiconductors, and semiconductor-making equipment and services.
Huawei is not only the world's third-largest buyer of semiconductors but, through its subsidiary HiSilicon, one of China's biggest semiconductor makers. Being shut off from US suppliers impedes both the competitiveness of its products and the development of its own chip-making capacity.
A coherent strategy
The US Semiconductor Industry Association has urged the US government to approve exemptions because there are no "national security concerns[3]" in selling semiconductors to Huawei for "non-sensitive" products such as phones. It argues the ban only benefits foreign rivals.
But my research, based on financial data from Bloomberg, points to a coherent strategy to preserve US dominance of the global semiconductor industry.
US corporations dominate the global semiconductor industry. The following chart shows the world's top 20 manufacturers by company value.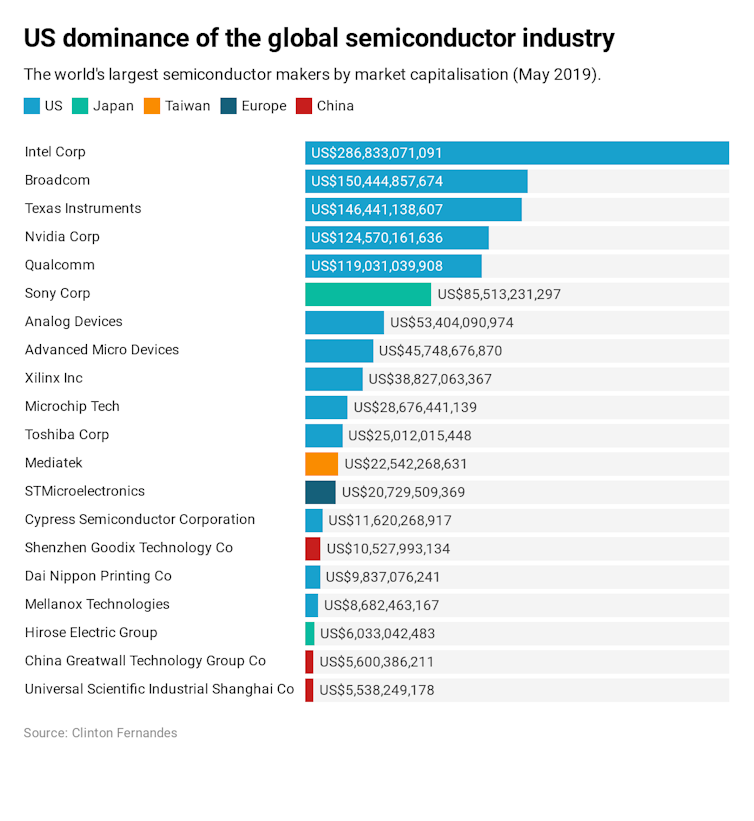 Authors: Clinton Fernandes, Professor, International and Political Studies, UNSW
Read more http://theconversation.com/whats-at-stake-in-trumps-war-on-huawei-control-of-the-global-computer-chip-industry-124079