40 years on, does Australia need another Prices and Incomes Accord?
Written by

Tim Harcourt, Industry Professor and Chief Economist, University of Technology Sydney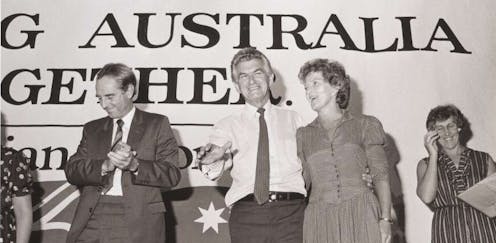 The election of the Hawke Labor government on March 5 1983 began an era of once-in-a-century economic reforms that opened the Australian economy to world. It floated the dollar, eliminated controls on international capital flows, and dismantled the high tariffs that protected local manufacturers from imports. It refocused Australia's international trade and foreign policy on the Asia-Pacific region.
But perhaps its most striking innovation was in place even before it was elected: a historic agreement with the Australian Council of Trade Unions, known as the Prices and Incomes Accord (or "the Accord"), announced on February 22 1983.
Under this deal, the union movement agreed to curb demands for higher wage rises in exchange for increases in the "social wage". Accordingly, the Hawke government introduced measures such as universal health insurance and superannuation, and more funding for education and training, child care and social security.
Seven versions of the accord would be signed over the next 13 years – the last one under Paul Keating, who replaced Hawke in 1991.
By providing the foundations for fewer strikes and curbing the inflationary effect of wage demands, the accord arguably contributed more than any other Hawke-Keating-era reform to setting up Australia for almost three decades without a recession (defined as two consecutive quarters of negative GDP).
Is there a case for the Albanese government to resurrect the accord process? Yes, even though circumstances are very different now.
Read more: Australian politics explainer: the Prices and Incomes Accord[1]
'Bringing Australia together'
The accord was the centrepiece of Hawke's 1983 campaign. He wanted to avoid the mistakes a decade before of the short-lived Whitlam government, whose economic policies were tailored to the long postwar boom but unsuitable for the stagflation (high inflation and high unemployment) engendered by the oil supply crisis of the mid-1970s.
Australia was still suffering from this stagflation in 1983, with double-digit inflation, and unemployment rising towards 10%. The accord promised to fix this, and end the industrial conflict under the Fraser government (1975-83). Hawke's election slogan "Bringing Australia together" said it all.
That Hawke was able to deliver this deal was due to his close relationship with the ACTU, having been its president from 1969 to 1980. As a trade unionist, he was confrontational. As aspiring prime minister, he stressed consensus. Whitlam would later quip to me: "Bob Hawke's greatest advantage as prime minister was that he didn't have to deal with Bob Hawke as ACTU president."
Read more: What I learned from Bob Hawke: economics isn't an end itself. There has to be a social benefit[2]
Hawke also benefited from the support of economics-trained unionist Bill Kelty, who became ACTU general secretary in 1983. With Accord Mark II, signed in September 1985, Kelty convinced the unions to accept wage discounting after a sharp devaluation in the Australian dollar to avoid higher import prices (leading to more wage-price inflation). In return, workers got tax cuts to boost take-home pay.
Not everyone in the union movement appreciated the accord. The head of the militant Building Workers Industrial Union, Tom McDonald[3], told me:
The accord enabled unions – particularly the left – to focus on the creation of wealth as well as the distribution of wealth. In its very essence, the accord prepared the Australian workforce for globalisation and got us out of stagnation.
Even Keating was initially an accord sceptic. He considered it a rerun of the incomes policies of Britain's Wilson-Callaghan Labour governments of the 1970s. But he ended up a self-proclaimed "accord warrior", working closely with Kelty.
Is it time for a new accord?
Attempting to fully replicate the accord's template would be a mistake.
Economic and political conditions in 2023 are very different to 1983. While inflation is a problem, there is no stagflation. Unemployment is at historically low levels, and fears of a wages explosion[4] have failed to materialise. The Reserve Bank of Australia expects real wages will continue to fall[5].
This is in part because union power has been so greatly reduced. In 1983, nearly 50% of the workforce was unionised. Now, it is 12.5%[6] – and in the private sector just 8%[7]. So any deal with the ACTU just wouldn't have the same effect.
But there are grounds for the Albanese government to emulate the spirit of consensus that underpinned the accord, forging a grand bargain between unions, employer groups and other stakeholders.
Paul Braven/AAP
This would be similar to Germany's industrial relations model, which characterises employers and unions as "social partners", working cooperatively with government.
A new accord would help because employers are fearful that the Albanese government's industrial relations reforms – notably expanding the capacity for multi-enterprise collective bargaining – will lead to a wage explosion[8].
Read more: What the compromise IR deal means for wage negotiations, and pay rises[9]
To achieve a deal in which unions cap their demands in exchange for social-wage benefits, the government could offer to make dental care part of Medicare, increase unemployment payments, or invest more in early childhood education.
That way, employers could rest easy about industry bargaining. Workers would know they are getting benefits as valuable as a pay rise. Such a pact would help keep inflation in check, taking pressure off the Reserve Bank of Australia to curb inflation through interest-rate hikes.
A new accord could even include reforming the mess of federal and state taxation and distribution, and the major economic policy making and advisory institutions such as the RBA and the Productivity Commission.
The 1983 accord was a great success because it was the right suite of policies at the right time. Forty years later, Albanese and his treasurer, Jim Chalmers, have an opportunity to forge an accord-like framework fit for conditions now.
This article was co-authored by Jerome Fahrer, a former economist with the Reserve Bank of Australia and now director of ACIL Allen Consulting.
Authors: Tim Harcourt, Industry Professor and Chief Economist, University of Technology Sydney
Read more https://theconversation.com/40-years-on-does-australia-need-another-prices-and-incomes-accord-199784