Retiree home ownership is about to plummet. Soon little more than half will own where they live
Written by

Brendan Coates, Fellow, Grattan Institute
Australia's retirement incomes system has been built on the assumption that most retirees would own their home outright. But new Grattan Institute modelling shows the share of over 65s who own their home will fall from 76% today to 57% by 2056 – and it's likely that less than half of low-income retirees will own their homes in future, down from more than 70% today.
Home ownership provides retirees with big benefits: they have somewhere to live without paying rent, and they are insulated from rising housing costs. Retirees who have paid off their mortgage spend much less of their income on housing (on average 5%) than working homeowners or retired renters (25% to 30%). These benefits – which economists call imputed rents – are worth more than A$23,000 a year to the average household aged 65 or over, roughly as much again as the maximum pension.
You'll be OK if you own
Our 2018 report Money in Retirement[1] showed that while Australia's retirement income system is working well for the vast majority of retirees, it's at risk of failing those who rent. They are more than twice as likely as homeowners to suffer financial stress, as indicated by things such as skipping meals, or failing to pay bills.
This is not surprising – renters typically have lower incomes. But the rising deposit hurdle and greater mortgage burden[2] risks means rates of home ownership are falling[3] fast among the presently young and the poor.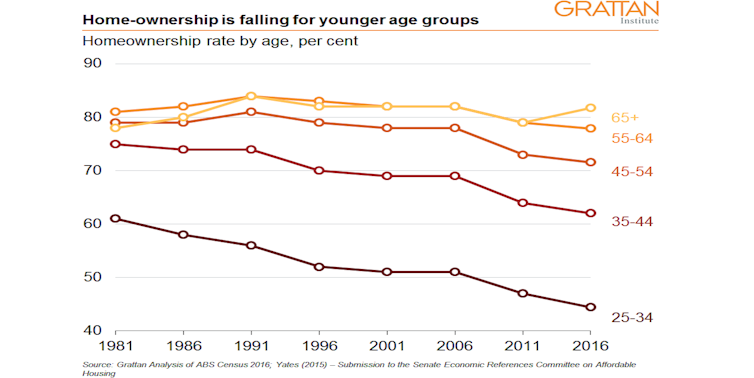 Authors: Brendan Coates, Fellow, Grattan Institute
Read more http://theconversation.com/retiree-home-ownership-is-about-to-plummet-soon-little-more-than-half-will-own-where-they-live-115255