Australia is missing the Closing the Gap employment target by decades
Written by

Zoe Staines, Research Consultant; Research Assistant, Queensland University of Technology
Australia is missing its target to halve the unemployment gap between Indigenous and non-Indigenous Australia by several decades, according to the latest Closing the Gap report[1].
The report also highlights many other problems with current Closing the Gap targets. For instance, the unemployment target misses other aspects of economic life, such as income. The targets need to be rethought so that they address economic well-being and more closely guide strategy and policies on the ground.
Read more: Closing the Gap results still lag, as Shorten pledges compensation fund for Stolen Generations[2]
The unemployment rate for Indigenous Australians is going down. But 2016 Census data[3] show that it will take until 2031 to halve the gap, and until about 2051 to close the gap entirely. Even New South Wales, which leads Australia on this measure, won't meet the target until about 2026.
One reason why some states are doing better in tackling the unemployment gap is that different opportunities are available for urban and rural Australians. In 2014/15[4], only 5% of the NSW Indigenous population lived in remote areas. This compares to 21% nationally, 79% in the Northern Territory and 19% in Queensland.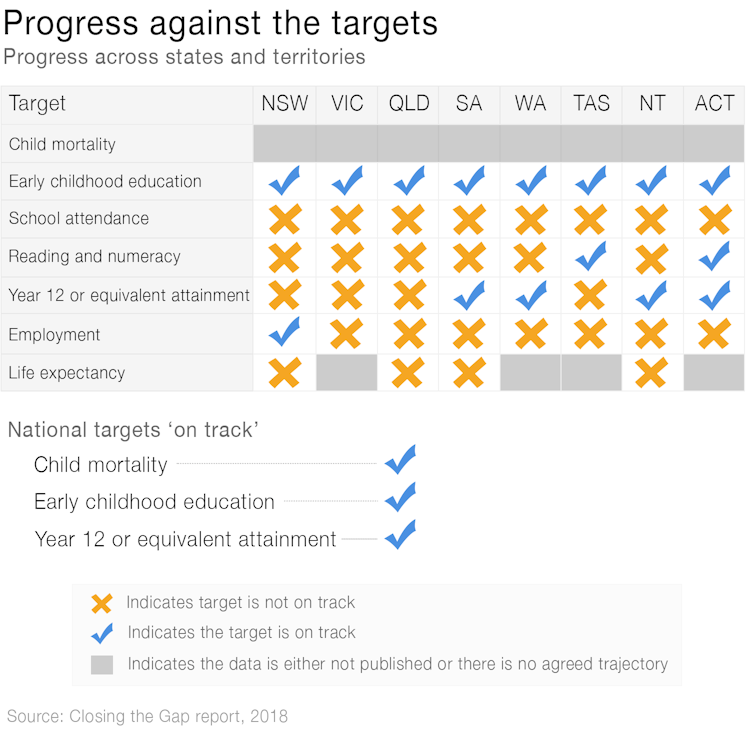 Authors: Zoe Staines, Research Consultant; Research Assistant, Queensland University of Technology
Read more http://theconversation.com/australia-is-missing-the-closing-the-gap-employment-target-by-decades-91648