Two ways to fund NSW election promises as property prices crash
Written by

Gareth Bryant, Lecturer in Political Economy, University of Sydney
State elections are always about spending promises, but this time not much is being said about how they will be funded.
Last minute costings on individual announcements tend to rely on the general presumption that the state economy will keep growing and somehow produce the needed revenue.
This is evident in the costings released by the NSW Parliamentary Budget Office[1], which show that new spending promises from both major parties exceed new revenue promises.
The Labor Party has managed to find some new revenue through increased taxes on luxury cars, boats and vacant properties, while the Coalition has unveiled no new revenue initiatives at all.
While the property market has been climbing this needn't have mattered that much. But for the past 20 months Sydney prices have been falling. Projected stamp duty revenues are being repeatedly revised downwards. The latest wipes A$9.5 billion off what was expected at the time of the 2017 budget.
NSW state revenue by type, A$ billion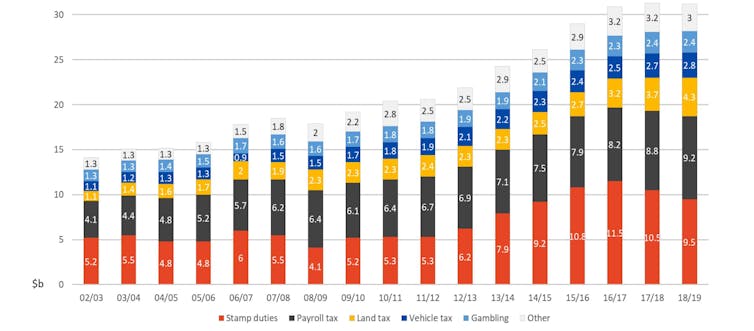 Authors: Gareth Bryant, Lecturer in Political Economy, University of Sydney
Read more http://theconversation.com/two-ways-to-fund-nsw-election-promises-as-property-prices-crash-113835