What 1,100 Australians told us about the experience of living with debt they can't repay
Written by

Evgenia Bourova, Research Fellow (Financial Hardship Project), University of Melbourne
Two thirds of Australian adults feel financially insecure[1]. Almost one in two have less than three months' income saved, and almost one in three have less than one month's income. One in seven have negligible or no savings, meaning that financial hardship[2] – being unable to pay debts when they fall due – is just a bill away.
This is something that rightly concerns policy makers. Yet for all the attention given to the problem – for example, in the recently completed Senate inquiry into financial services[3] targeted at Australians at risk of financial hardship – there is little empirical research on the topic in Australia to help inform policy responses.
Read more: Should regulation be aimed at saving the payday borrower from themselves?[4]
To address this gap, we conducted Australia's first large-scale study on the experiences of people in financial hardship. We surveyed[5] 1,101 Australian adults who had been unable to pay a debt when it fell due within the previous two years.
The results must be interpreted carefully, as certain groups – such as people who spoke a language other than English at home, and people aged under 25 – were underrepresented.
Nonetheless, our findings clearly contradict a popular belief that debt problems are mostly due to poor choices. They also shed light on the profound impact that financial hardship – from temporary shortfalls in earnings to severe and ongoing deprivation – has on health, relationships and overall quality of life.
Key survey groups
Of our 1,101 respondents:
480 (43.6%) were "wage recipients", their main source of income being wages paid by an employer.
402 (36.5%) were "Centrelink recipients", their income coming primarily from social security payments (for example, the Newstart Allowance for the unemployed, the Disability Support Pension, or the Age Pension).
76 (6.9%) received both wages paid by an employer and a Centrelink payment.
143 (13.0%) had income coming from other sources, such as earnings from their own business, superannuation, and financial assistance from family or friends.
The median income for Centrelink recipients was A$19,981. For wage recipients, it was A$44,876.
The large representation of wage recipients in our sample shows that employment is no guarantee against financial hardship. Nor is educational attainment, with more than one third of wage recipients in our survey having a bachelor's degree or higher.
Tipping points for financial hardship
We asked respondents about their experiences in the year before they fell behind with repayments. The most common experiences were unemployment and underemployment, as well as physical and mental health problems. Significantly less prevalent were factors such as gambling or alcohol and drug addiction.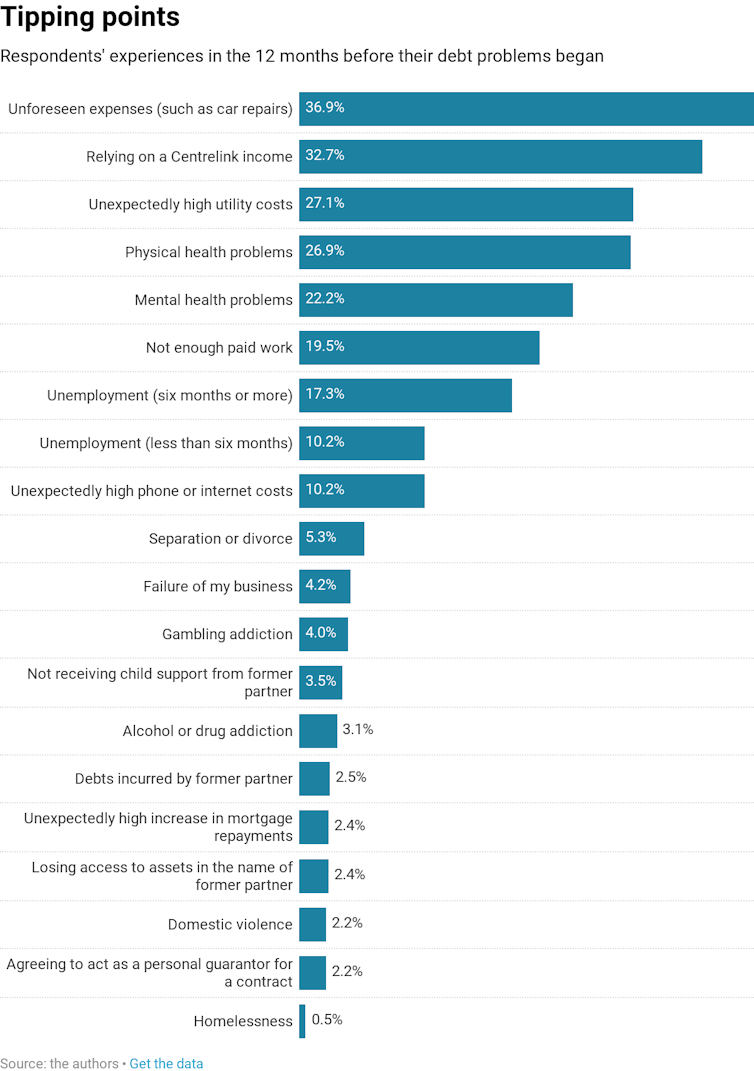 Authors: Evgenia Bourova, Research Fellow (Financial Hardship Project), University of Melbourne
Read more http://theconversation.com/what-1-100-australians-told-us-about-the-experience-of-living-with-debt-they-cant-repay-105296