How FTX Australia was able to get away with claiming it was 'ASIC-licenced'
Written by

Pamela Hanrahan, Professor of Commercial Law and Regulation, UNSW Business School, UNSW Sydney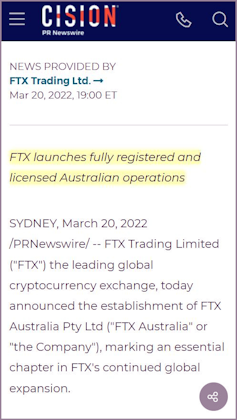 When cryptocurrency exchange FTX Group[1] collapsed in the Bahamas last month, its local subsidiaries FTX Australia[2] Pty Ltd and FTX Express[3] Pty Ltd fell over too.
The Australian companies were placed into administration on November 11 and within days the Australian Securities and Investments Commission (ASIC) had suspended[4] the Australian financial service licence FTX Australia had held since March 2022.
The fact that FTX Australia had an Australian financial service came as a surprise to some people, who had wrongly assumed everything crypto-related was beyond the reach of Australia's regulators.
It also raised questions – including for Assistant Treasurer Stephen Jones[5] – about how FTX Australia managed to acquire its Australian financial services licence, and how ASIC seemed to have missed the chance to intervene sooner.
And it draws wider attention to the 20-year-old licensing system and what an Australian financial service actually means for the firms that have them.
Licensed to do what, precisely?
Read more https://theconversation.com/how-ftx-australia-was-able-to-get-away-with-claiming-it-was-asic-licenced-196361