Little Succers' festive wreaths and creative workshops
Written by

Little Succers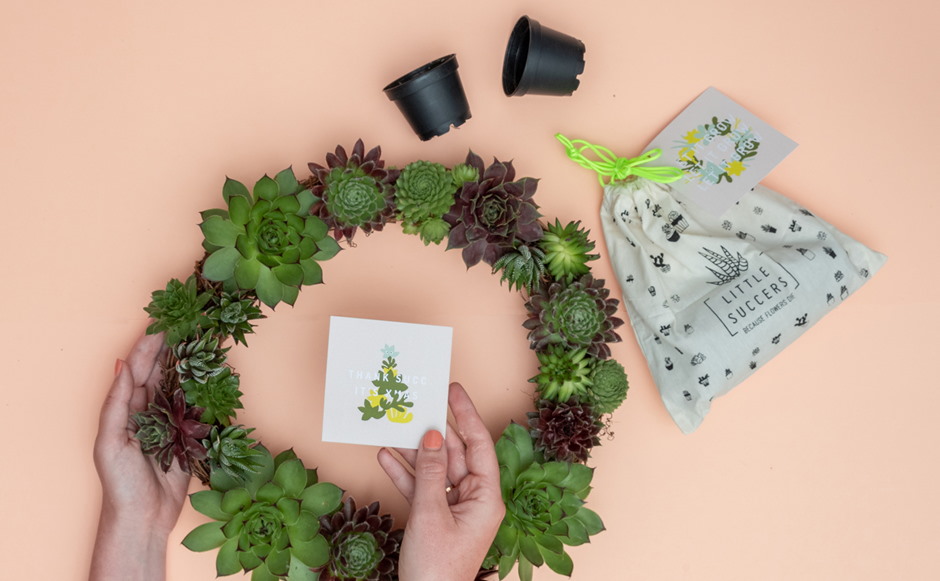 Leading Australian online succulent and cactus gift company, Little Succers agrees that 2020 Succ'd and it's time to celebrate that it's come to an end with some festive creative workshops for friends, colleagues or the whole family!
Say Merry Succers Christmas with a wreath
Whether you want to 'Succ a Little' wreath which features a 30cm in diameter, naturally dried willow wreath, a small bunch of succulents, or a 'Succ a Lot' boasting more than 30 succulents, there is a perfect Little Succers Christmas wreath to suit your style and budget.
For those who don't succ creatively and want to save a little, Little Succers also offer the DIY kits, where you can create your own personal Little Succers wreath. Everything is there including green florist wires, six succulents, propagation pots and even gift packaging - just in case you want to create one for the ultimate Christmas pressie to a loved one or work colleague.
Little Succers is also offering a very sweet 'build your own terrarium bauble' a guaranteed showstopper for your tree. The baubles come in the form of DIY kits for 1, 2 or 4 people, making them super fun and festive activity in the lead up to Christmas. If you have kids, why not get them to make one for their teacher as a thank you gift?
According to Tara Shelton, Founder, Little Succers, the beauty of the Christmas Little Succers wreaths is that they are a sustainable and cost-effective way of styling your home this Christmas6. Once the silly season is over, you can get your hands dirty and repot every succulent, using the pots provided.
"We design things to last at Little Succers, and we just love how resilient succulents are. Even our gift packaging this year doubles up as a 2021 wall planner for less waste and extra value."
Succulent Wreath and Terrarium workshops
The Little Succers' popular 'Build your own Terrarium workshops' are back, with a peppering of Christmas cheer.
"These workshops will be Christmas themed and family friendly, complete with festive decorations for your Terrarium and festive looking vases. Your finished Terrarium could be used to decorate your home this Christmas or you could make something really special for a loved one." Tara says.
The entire product line is available with free delivery Australia wide (excluding NT, WA and Tasmania) with same-day delivery in Sydney.
The succulent wreath making workshop is a fresh offering from Little Succers and is guaranteed to be loads of fun, especially with the free glass of Prosecco or craft beer to get the creative juices flowing.
Tara says, "With only 10 spots available for this event, it won't take long for spots to be succeed up, so be quick! But if you miss out, we have our DIY wreath kits this year with online videos on how to make them, so you could always host your own little party at home with friends or at work with your teammates."
Next Build Your Own Terrarium event:
Date: December 5-13th
Weekends 9-6pm and
Midweek Twilight Sessions 5-8pm
The event is also available for private functions.
Where: 1/457 Elizabeth St Surry Hills NSW 2010
Cost: $20.00 Tickets, 100 % redeemable against your terrarium bill on the day
Contact: hello@littlesuccers.com.au
Succulent Wreath Making Workshop
Date: December 7th 6-8pm
Where: 1/457 Elizabeth St Surry Hills NSW 2010
Cost: $120.00 Tickets