Giesecke+Devrient's Order Backlog Reaches All-Time High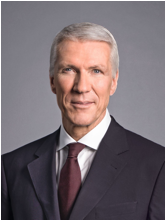 Munich, April 11, 2019 – Giesecke+Devrient (G+D) published its results for fiscal 2018 today. Once again, the global security technology Group posted record sales. G+D enjoyed particular success in acquiring new customer orders, with the order backlog growing by 50 percent.
In fiscal 2018, G+D sales increased by 5 percent year over year (currency-adjusted: 7 percent) to €2.25 billion. That represents a record turnover for the company. The fiscal year ended with the G+D order backlog at €1.7 billion, which is 50 percent above the previous year's value. Altogether, this is the highest order backlog ever achieved in G+D's history.
All company business sectors – G+D Currency Technology, G+D Mobile Security, Veridos, and secunet – posted increases in their sales and made positive contributions to earnings. Overall, adjusted earnings before interest and taxes (EBIT) were €120 million, just slightly below the previous year's level. Negative currency effects and fluctuating exchange rates in pension funds weighed on earnings.
The business with solutions and services was a key contributor to the increase in company sales. At a growth rate of 13 percent, these sales far exceed figures in the product business.
G+D Currency Technology increased its sales by 4 percent to €1.06 billion. The business sector saw particularly high demand in automated technology in 2018. G+D Currency Technology acquired record orders worldwide for banknote processing machines featuring cutting-edge sensor technology and software.
G+D Mobile Security sales rose by 7 percent to €868 million. In recent months, world-leading smartphone manufacturers have integrated eSIM technology from G+D Mobile Security into many of their new devices. As a result, innovative eSIM solutions stand at the cusp of a wider breakthrough into mainstream products. G+D is the global market leader for eSIM technology. 
Veridos increased its sales by 8 percent to €180 million. Aside from winning several major projects, the business sector developed a number of key technological innovations in biometrics. Some were showcased at this year's Munich Security Conference, where visitors' identities were authenticated as they passed through the innovative and secure Veridos entry gates.
secunet sales rose by 3 percent to €163 million. With the licensing of the secure healthcare konnektor, secunet succeeded in adding a network solution for the healthcare sector to its leading digital security portfolio. Medical practices can use the system to communicate with telematics infrastructure.
In fiscal 2019, G+D expects the positive trend to continue in its core markets of payment, secure connectivity, identity solutions, and digital security for critical infrastructures. G+D plans to increase investment in its businesses to enable the organization to train its strategy more effectively on these dynamic markets. Sales are expected to remain at the high levels of the previous year, while earnings are expected to grow.
"For G+D, 2018 was a good year," says Ralf Wintergerst, Chairman of the Management Board and Group CEO of Giesecke+Devrient. "We continued to grow and we recorded by far the highest order backlog in the company's history. This illustrates very clearly that customers trust our innovative solutions and technologies."
"G+D has been very successful in focusing its strategy on powerful digital and technology-driven business models, and we will press ahead with that during 2019," says Wintergerst. "Today we employ more experts in IT security, biometrics, software, and cryptography across the company than ever before. We can and we will apply this expertise for the benefit of our customers."
The detailed 2018 fiscal report is available at: www.gi-de-bericht.de


About Giesecke+Devrient 
Giesecke+Devrient (G+D) is a global security technology Group headquartered in Munich, Germany. Innovations from G+D make the lives of billions of people in the digital and physical world more secure. With its products and solutions, G+D is one of the market and technology leaders in the areas of payment, connectivity, identities and digital security.
Founded in 1852, the company generated sales of 2.25 billion Euros in the 2018 fiscal year with 11,400 employees. G+D is present in 32 countries. Its customers include central and commercial banks, mobile network operators, automobile manufacturers, health insurance companies, governments and public authorities. For more information, please visit: http://www.gi-de.com/.