Scott Morrison: the right man at the right time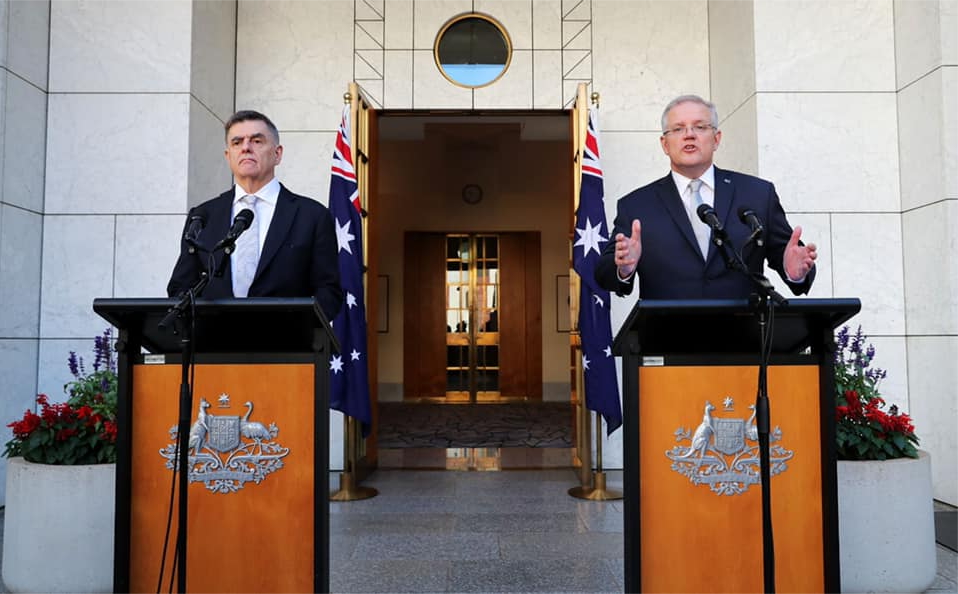 Australia is not at war with another nation or ideology in August 2020 but the nation is in conflict. There are serious threats from China and there are many challenges flowing from the pandemic that have forced profound changes. Perhaps in Australia' s history there has never been a more challenging set of circumstances. With serious illness, a patient can fight one issue and survive, when multiple health threats run concurrently, a patient has a limited chance of fully recovering. Today, Australia and Australians are in peril.
Scott Morrison is in charge and I recall Mr. Morrison's first day as leader in the House of Representatives. In an answer to a question from Labor leader ( at the time ) Bill Shorten, Scott Morrison told the House that he was present when General Norman Schwarzkopf, said "When placed in command, take charge."
Scott Morrison finished his answer by saying, "and that is what I intend to do."
Mr. Morrison has honoured his commitment to Australia.
The nation will have to speculate of how well Bill Shorten as Prime Minister would have performed. Perhaps based on his lack of ability or intention to answer legitimate questions from journalists, he is or was incapable of leading Australia with credibility or distinction.
We know how Labor's current preferred choice as leader,
Anthony Albanese
, has performed his duties because we have seen and can observe him ( when he is out and about ). He is not considered relevant by the majority of Australian voters, in part because Albanese's socialist left or communist faction of Labor, promotes and agitates for values that scare people. China is a socialist country. Russia is a communist country run by a cunning dictator. Not a lot there for most Australians to admire. Then there is North Korea.
Scott Morrison is profoundly active. He is on radio, on TV or out and about throughout the country ( subject to Covid restrictions ). This week he was in
Queensland
.
The Prime Minister has assembled a Ministry that is made up of some very competent politicians and when he needs the services of specialists for task forces to confront threats and challenges, he brings in industry leaders and academics to advise or serve on committees. The leaders of Australia's Covid 19 response are from the military, from professions and from business. Greg Hunt is widely praised for his performance in health in terms of procuring drugs and medicines for Australians at affordable prices and for taking charge this year as the pandemic took control of the World.
Scott Morrison does lead. He is across the many issues that affect the lives of Australians. Some that come to mind include, bush fire recovery, drought aid, indigenous affairs, the financial hurricane that is battering Australia's economy, defence capability, the relationship with China in terms of trade and chronic examples China's malevolent interference in the affairs of small ( vulnerable ) nations in the Pacific and South East Asia.
If an election were held now, the coalition would be re-elected. See polling conducted by or for
The Australian
.
Labor and its unofficial marketer,
GetUP
( which uses this slogan "An independent movement to build a progressive Australia and bring participation back into our democracy", is very active but the coalition and anti socialist members of the community have the aid of
Advance Australia
, which exposes the activities and goals of GetUP to bring balance to political debate. On Friday Liz Storer issued this message to viewers and subscribers.
"You won't believe this: Black Lives Matter anarchists were made to abide by the same rules as mainstream Aussies this week.  
Ordered to disperse by riot squad officers in Sydney on Tuesday, the remaining protestors were hauled away and fined by our faithful public servants.  Feel the justice!
Also this week we learned that GetUp is in Indigenous communities enrolling Aboriginals to vote for Greens policies at the Northern Terrority election next month.
To quote their First Nations justice campaign director, "Just a few hundred votes can shift an election result in the NT, so that's exactly what we're going to do."
For an organisation that exists to hate on all things colonialism, this exploitation of the Indigenous vote is as ironic as it is disgusting.
And he may be getting pummelled for it by Labor left, but does Labor's resources spokesman's rationale on coal and climate make him and his ilk federal Labor's only hope in 2022?"
As Australians live in and get on with their restricted lifestyle in the days and weeks to come, they will form an opinion of Scott Morrison as a leader and as a person. Right now, I am very pleased that Scott Morrison has taken charge.