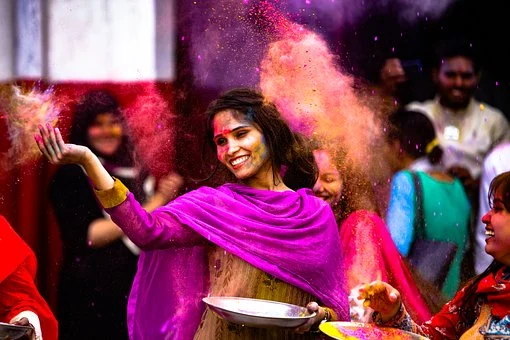 A part of the traditional Indian folklore, the Bindi represents a small decorative piece, usually a red dot, worn by Hindu women on the centre of their forehead. The Bindi is also known as the third eye chakra and holds great cultural, religious and historical significance in South and Southeast Asia. Of course, in recent years, Bindis have found their purpose in other countries and regions around the world, as a fashion accessory worn for decorative purposes. And while this was a subject of controversy, still many celebrities have adopted this trend and are wearing it as a fashion statement. There is a variety of ways for wearing the Bindi, and these are just a few cool ideas:
Where to Apply It?
The most common place for applying the Bindi is in the area between the eyebrows, as it's believed that this spot symbolizes the sixth chakra, or the third-eye chakra, which signifies the consciousness. Of course, in modern use, the Bindi doesn't necessarily have to be placed between the eyebrows, but can also find its place in the centre of the forehead or in its close proximity. This is mostly because Westerners use the Bindi as an accessory and it holds no spiritual or religious significance to them, so it can be worn just about anywhere.
How to Apply It?
Because the Bindi is originally red in colour, most women rely on vermilion powder and their fingertips for applying the perfect dot on their foreheads. Of course, some less experienced practitioners make use of circular discs to help them achieve the desired shape. Nowadays, applying Bindis is somewhat easier, as sticker-Bindis have made an appearance and have grown quite popular among the members of the female audience all across the globe. These Bindis are usually made of felt and have one glued surface that makes putting on and taking of the Bindi quite a breeze.
Adorn the Bindi
As fashion progresses, so does the traditional appearance of a specific adornment. Like that, the traditional red dot has taken a lot of different shapes, sizes and looks over the years and nowadays, women are placing various Bindi designs on their foreheads. This is quite common in wedding traditions, where brides wear a combination of larger and smaller sized Bindis in diverse formations. The original dot on the forehead can be adorned with colourful beads, sparkling stones in a variety of colours and patterns to achieve a more dazzling effect.
Different Ways to Wear a Bindi
While wearing the Bindi was focused mainly on the forehead area, the idea has spread in various directions and today, Bindi's are worn in different ways and in other places on the body. Some of the most popular methods of applying the Bindi is placing them in the corner of the eyes. This is quite a common practice and many women wear them in combination with makeup to make a greater statement. Other than this, bindis can also be applied on the eyelashes, but it takes some skill to apply them properly in order to avoid making a huge mess. Another prominent way for wearing the Bindi is on the nose, which closely resembles a nose ring or a piercing, but without actually piercing the skin. Quite similar to this, belly button Bindis have also found their purpose in modern culture, and many girls worldwide are applying belly button Bindis alongside mandala tattoos and similar fashion accessories.
Even if you're not Hindu and don't find a religious significance in wearing a Bindi, you can easily pull off this look by following a few simple tips. It can greatly enhance your whole look and with different embellishments and additions, it makes a wonderful accessory to the outfit.