Like most of the fashion industry, there's a blind spot in Country Road's ethical focus
Written by

Harriette Richards, Research Associate, Cultural Studies, The University of Melbourne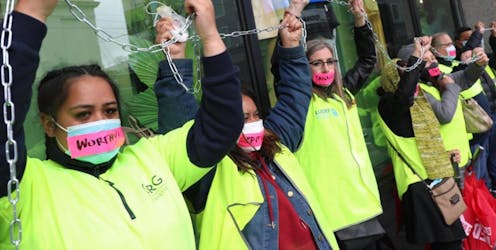 Amid the catwalk shows and millinery workshops, a key theme of this year's Melbourne Fashion Week[1] was sustainablity, "offering designers with strong ethical foundations an opportunity to join our runways, or opening up dialogue on sustainability into our talks program".
Events during the week included industry representatives discussing "shifting the status quo[2]" and moving "beyond greenwashing[3]". On the panel at the latter event was Eloise Bishop, head of sustainability at Country Road Group, one of Australia's largest specialty fashion retailers.
Meanwhile workers from the company were on strike, chaining themselves together and staging other protests outside Country Road stores in pursuit of better wages and working conditions.
Among the complaints of these workers, mostly women from the company's distribution warehouse in Melbourne's west, was being paid an average of A$23 an hour[4], compared to about A$30 for workers doing similar work at the Pacific Brands warehouse across the road.
On Monday the workers returned to work after reaching an agreement with the company that includes improved job security, union recognition and a 13.3% pay rise over four years. That's about an extra $3 an hour.
While this has brought the strike to a celebratory end, questions remain. How could a company so highly regarded for its commitment to sustainability have provoked staff to strike for almost a fortnight?
Lower marks for worker empowerment
Country Road Group is a subsidiary of South Africa's Woolworths Holdings Ltd[5] (which also owns David Jones). The company's clothing brands include Country Road, Witchery, Trenery, Politix and Mimco. Despite the pandemic, in the past fiscal year Country Road Group's sales grew by 13.5% to A$1.05 billion[6].
The company is considered by many an industry leader on ethics and sustainability. The 2021 Ethical Fashion Guide[7] compiled by Baptist World Aid, for example, awarded it an overall "A" grade. It did well on four of five rating criteria, scoring an "A+" on its policies and governance, "A+" for trading and risk, "A" for supplier relationships and human rights monitoring, and another "A" for environmental sustainability.
On worker empowerment, however, it scored just a "C".
These results suggest the company has a blind spot in addressing concerns about labour conditions in its supply chain.
Nick-D/Wikimedia, CC BY[8][9]
Supply-chain blind spots
In part because of the disparities between how the fashion industry markets its products and the way workers are treated, the global fashion industry is a notorious example of exploitation engendered by opaque supply chains.
Questions about ethics become divided across asymmetrical lines: the global North as fashion consumer and the global South as fashion producer.
Read more: Why the fashion industry keeps failing to fix labour exploitation[10]
Authors: Harriette Richards, Research Associate, Cultural Studies, The University of Melbourne
Read more https://theconversation.com/like-most-of-the-fashion-industry-theres-a-blind-spot-in-country-roads-ethical-focus-172295