Behind moves to regulate breastmilk trade lies the threat of a corporate takeover
Written by

Julie P. Smith, Honorary Associate Professor, Australian National University
The European Union is preparing to harmonise regulations governing the trade in human milk[1], which sounds like a good thing. But it won't be if it sidelines breastfeeding or makes informal human-to-human milk exchanges more difficult.
Women and their families have exchanged human milk informally[2] (including for money) throughout history, and still do.
Until a century ago human milk was mainly delivered in person[3], breast-to-child, by friends, relatives or wet nurses if mothers couldn't provide it.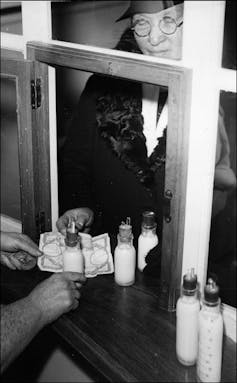 AP-HP Archives, 3Fi3_25_MATERNITE _092
As the paediatric profession developed, hospitals in Europe and the United States took over the process and began administering human milk by bottles, at first filled by volunteers, and later, in the lead-up to the second world war, by paid donors[4].
Higher women's wages after the war made paying donors financially prohibitive, and most countries moved closer to a "gift economy[5]" in which payment for products such as human milk and blood was seen as inappropriate[6], alongside a growing commercial market for formula and powder derived from cows milk.
Donor milk collected by charities and non-profit organisations from screened donors is mostly pasteurised[7] and tested to minimise risks of disease.
Biotech discovers breast milk
Things changed in 1999 when an American company, Prolacta[8], developed human milk-based products for fortifying breast milk fed to premature infants.
At first Prolacta didn't pay[9] donors, but it now pays about US$4[10] per 100ml for milk it uses to make products that sell for up to US$250[11] per 100 ml.

Authors: Julie P. Smith, Honorary Associate Professor, Australian National University
Read more https://theconversation.com/behind-moves-to-regulate-breastmilk-trade-lies-the-threat-of-a-corporate-takeover-152446