Retirement incomes review finds problems more super won't solve
Written by

Peter Martin, Visiting Fellow, Crawford School of Public Policy, Australian National University
It would be a waste if the Friday's mammoth Retirement Incomes Review[1] was remembered only for its finding that increases in employers compulsory superannuation contributions come at the expense of wages.
That has long been assumed[2], and is what was intended[3] when compulsory super was set up.
Compulsory super contributions are set to increase in five annual steps of 0.5% of salary between 2021 and 2025[4].
These are much bigger increases than the earlier two of 0.25% in 2012 and 2013.
And the wage rises they will be taken from will be much lower. The latest figures released on Wednesday point to shockingly low annual wage growth of 1.4%[5].
Should each of the scheduled increases in employers compulsory super knock 0.4 points off wage growth (which is what the review expects) annual wage growth would sink from 1.4% to 1%.
Read more: Workers bear 71% to 100% of the cost of increases in compulsory super[6]
Private sector wage would sink from 1.2% to 0.8%, in the absence of something to push it back up.
Because inflation will almost certainly be higher than 1%, it means the buying power of wages would go backwards, all for the sake of a better life in retirement.
The review presents the finding starkly. Lifting compulsory super contributions from 9.5% of salary to 12% will cut working-life incomes by about 2%.
And for what? It's a question the review spends a lot of time examining.
Most retirees have enough
The review dispenses with the argument that the goal of a retirement income system should be "aspirational[7]", or to provide people with higher income in retirement than they had in their working lives.
It finds that for retirees presently aged 65-74 the replacement rates for middle to higher income earners are generally adequate.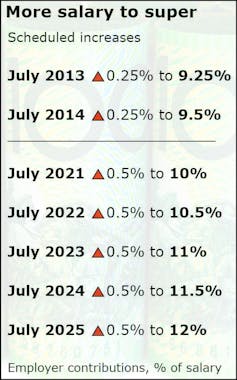 Authors: Peter Martin, Visiting Fellow, Crawford School of Public Policy, Australian National University
Read more https://theconversation.com/retirement-incomes-review-finds-problems-more-super-wont-solve-150529