Morrison is right. All governments will need to spend more to get us out of the crisis
Written by

Danielle Wood, Chief executive officer, Grattan Institute
The prime minister wants the states to open their wallets. Although he has warned them not to "make whoopee", his message is blunt: "The Commonwealth cannot do all the fiscal heavy lifting on its own[1]".
The Reserve Bank governor is more circumspect, but also says the states have an "important" role in the fiscal response to the COVID recession and "can do more over time[2]".
Have the states been slacking off? At first glance, it appears so. The Commonwealth's stimulus contribution so far is more than A$170 billion, compared to less than A$30 billion from all of the state and territory governments.
To date, it's the Feds more than the states
The Commonwealth has spent almost 9% of national output on stimulus, whereas no state except Tasmania has spent more than 2% of its own output.
The two biggest states, NSW and Victoria, have each spent little more than 1%.
But these measures tell only part of the story. The Commonwealth has greater spending power because it has more revenue to draw from, and the states get about half their revenue from the Commonwealth.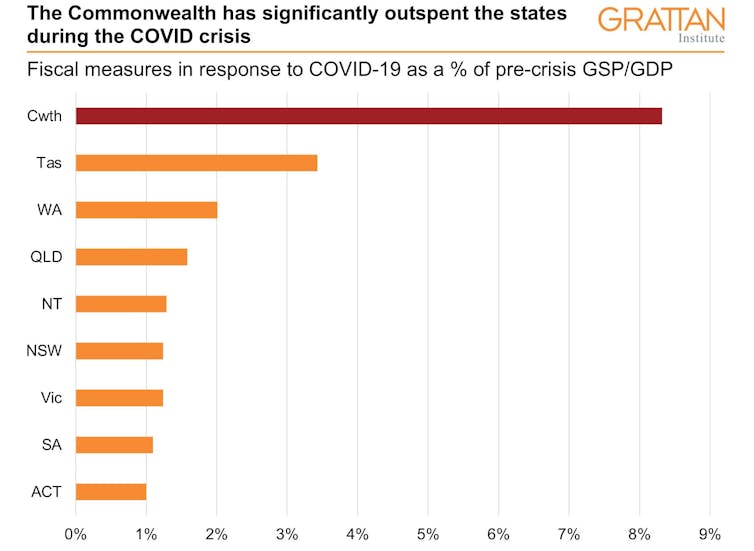 Authors: Danielle Wood, Chief executive officer, Grattan Institute
Read more https://theconversation.com/morrison-is-right-all-governments-will-need-to-spend-more-to-get-us-out-of-the-crisis-145449