Actually, Mr Trump, it's stronger environmental regulation that makes economic winners
Written by

Ou Yang, Research Fellow, University of Melbourne
Donald Trump has ordered US federal agencies to bypass environmental protection laws and fast-track pipeline, highway and other infrastructure projects. Signing the executive order last month, the US president declared[1] regulatory delays would hinder "our economic recovery from the national emergency".
Trump withdrew the US from the Paris Agreement for international climate action in 2017 for the same reason. The accord, he said[2], would undermine the US economy "and put us at a permanent disadvantage to the other countries of the world".
Read more: The EPA has backed off enforcement under Trump – here are the numbers[3]
This idea that environmental regulation costs jobs and hurts the economy is deeply entrenched in pro-business discourse. But it is true?
To assess the impact of greater environmental policy on economic productivity we analysed data of 22 member nations of the Organisation for Economic Cooperation and Development[4] (OECD) between 1990 and 2007. Our results show little evidence that environmental "green tape" inhibits economic growth over the long run. The opposite, in fact.
Comparing environmental policy stringency
Past studies of the economic impact of tougher environmental policies have tended to be limited by focusing on immediate effects and looking only at individual nations. Such results are of no help to understand the long-term effects and do not allow for straightforward cross-country comparison either.
This is why we analysed cross-country data stretching over a long period. We used data up to 2007 because that is the most recent year for which the OECD provides free access to all the information we needed for our analysis.
We rated nations' environmental policies using the OECD's Environmental Policy Stringency Index[5], developed in 2014. The index calculates a single score based on polices to limit air and water pollution, reduce carbon emissions, promote renewable energy and so on.
Read more: Despite clear skies during the pandemic, greenhouse gas emissions are still rising[6]
All 22 nations improved their stringency scores to varying degrees between 1990 and 2007. The following shows the trajectory of a few example nations – Australia, Germany, Japan and United States against the OECD average. Germany had the second-highest average score over the 17 years. Australia had the worst.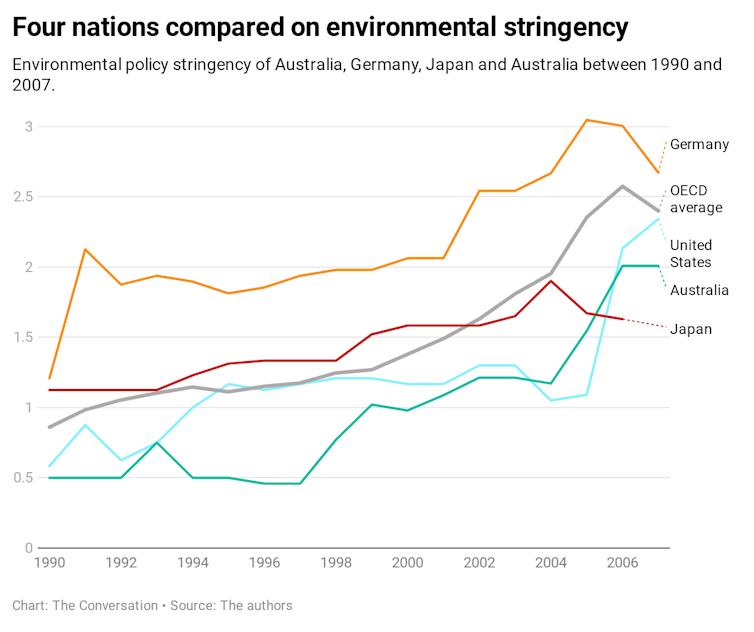 Authors: Ou Yang, Research Fellow, University of Melbourne
Read more https://theconversation.com/actually-mr-trump-its-stronger-environmental-regulation-that-makes-economic-winners-132185