How to tweak JobKeeper, if we must
Written by

Steven Hamilton, Visiting Fellow, Tax and Transfer Policy Institute, Crawford School of Public Policy, Australian National University
JobKeeper was always quick and dirty[1]. Its design was far from perfect, with shortcomings I and others cautioned against[2].
These were forgiven in the face of an impending calamity, but the health interventions have worked so well the generosity of the economic interventions is being reconsidered.
In light of a report the treasury is reevaluating[3] the design of JobKeeper, it's worth setting out where the scheme falls short and how it could be tweaked.
The fixed per-worker subsidy was a bad idea
The big flaw in JobKeeper is that it is paid as a fixed amount per worker, regardless of the hours worked or wage earned.
The COVID-19 economic crisis stems from businesses losing money and laying off workers due to a lack of customers – either voluntarily or by government fiat.
The ideal response would be to replace that lost revenue[4] on the condition that businesses maintain their workers' hours and wages.
Read more: That estimate of 6.6 million Australians on JobKeeper, it tells us how it can be improved[5]
With that condition, there would be no need to tie the amount of the subsidy to the number of workers on the payroll.
Doing so will save some firms and their workers' jobs. But those with low margins and large fixed costs such as rent will be undercompensated, and others will be overcompensated.
Forcing firms to pay the entire subsidy to their workers (even where it means giving them a pay rise) limits their ability to use it to offset other costs. And it leads to all sorts of inequities among workers.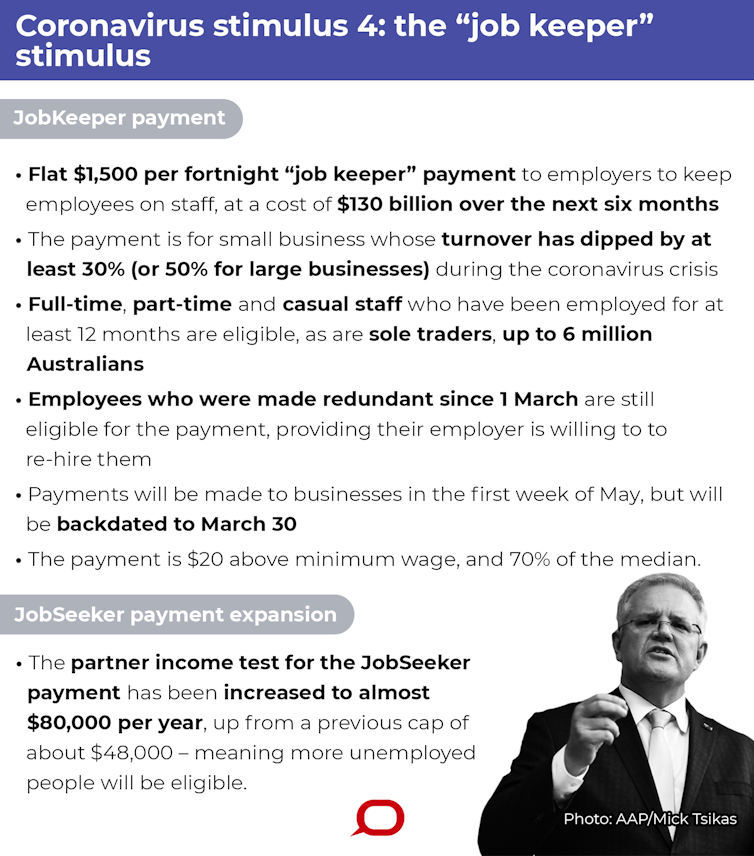 Authors: Steven Hamilton, Visiting Fellow, Tax and Transfer Policy Institute, Crawford School of Public Policy, Australian National University
Read more https://theconversation.com/how-to-tweak-jobkeeper-if-we-must-138321