business leaders nervous about consumers spending less and regulation
Written by

Ross Guest, Professor of Economics and National Senior Teaching Fellow, Griffith University
When Australian companies report results they typically include an outlook statement from the business' leaders, giving investors some guidance about their expectations for the future. They issue these forward-looking statements with some caution as investors might rely on them, and the law requires that they be based on "reasonable grounds".
The Conversation's Face Value[1] uses sentiment analysis to try and determine how Australian business leaders are feeling about the future. This gives us an idea of what might be in store for our economy.
Business leaders in health and consumer discretionary sectors are feeling less positive about the year ahead because consumers are feeling the pain in the hip pocket, according to our analysis of the outlook of leaders of Australia's ASX 200 companies. The threat of changes in regulation also features in business leaders' fears.
Roughly four out of five[2] Australian workers earn their living from private businesses. So we should care about how Australian business leaders are feeling about the future of their businesses, because it's our future.
The consumer discretionary sector encompasses industries that tend to be the most sensitive to economic cycles. They include businesses that produce goods like cars, clothes and leisure equipment but also services like hotels, restaurants and media.
Business sentiment in the consumer discretionary sector fell in March 2018 relative to the 2017 September business reporting season - from 0.19 to 0.13; and also compared with March 2017 but by a smaller magnitude.
Companies with lower than average sentiment for the year ahead included retailer Myer (0.05) – no surprise given the ongoing weak performance[3] and takeover speculation; and Nine Entertainment (-0.03), facing[4] ongoing cost pressures from digital media competition. Also less positive were Skycity Entertainment Group (0.01) and Webjet (-0.02).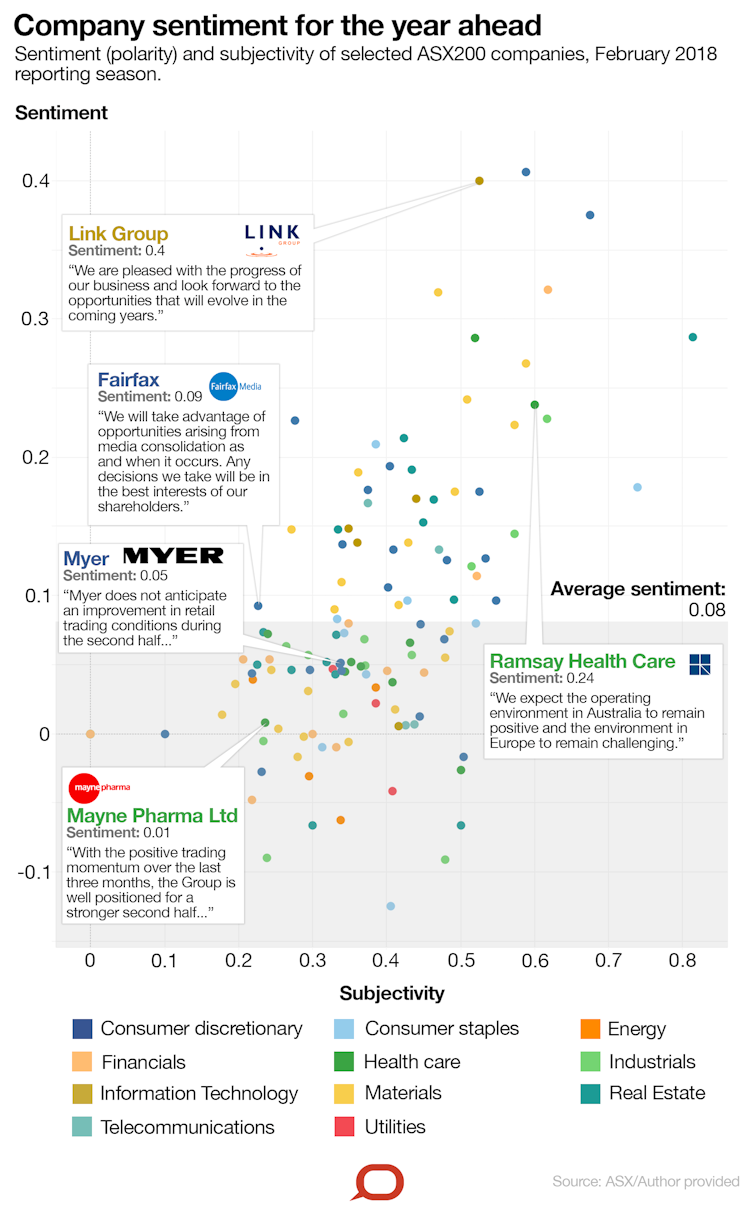 Authors: Ross Guest, Professor of Economics and National Senior Teaching Fellow, Griffith University
Read more http://theconversation.com/face-value-business-leaders-nervous-about-consumers-spending-less-and-regulation-92737