It's Newstart pay rise day. You're in line for 24 cents, which is peanuts
Written by

Peter Martin., Visiting Fellow, Crawford School of Public Policy, Australian National University
Newstart recipients and other Australians on benefits get their half-yearly pay rise today (and also on March 20). This one is vanishingly small.
Announced very quietly by Social Services Minister Anne Ruston earlier this week, it amounts to just A$3.30 per fortnight[1] for someone on the Newstart unemployment benefit.
That's $1.65 per week, less than 24 cents per day.
It's enough to buy about 36 peanuts – or more if you buy them in bulk.
More galling still for Australians on Newstart, age and disability pensions will increase by twice as much - $6.80 per fortnight, an increase the government was keener to highlight in its press release[2] than the increase in Newstart.
It is hard to comprehend how it could have come to this. Back in 1997 Newstart and the pension were about the same in dollar terms. Each was probably somewhat less than a single person needed to live on.
How did it come to this?
Then the Howard government effectively froze Newstart, forevermore increasing it only in line with inflation (which back then was typically 2.5% per year) while using a formula that lifted pensions in line with wage growth or inflation, whichever was the bigger (back then wages were growing by more than 3% per year).
The difference wasn't big, but over the past two decades it has compounded. Prime Minister Kevin Rudd helped it along in 2009 by a one-off $64 per fortnight increase in the single pension, unmatched by an increase in Newstart.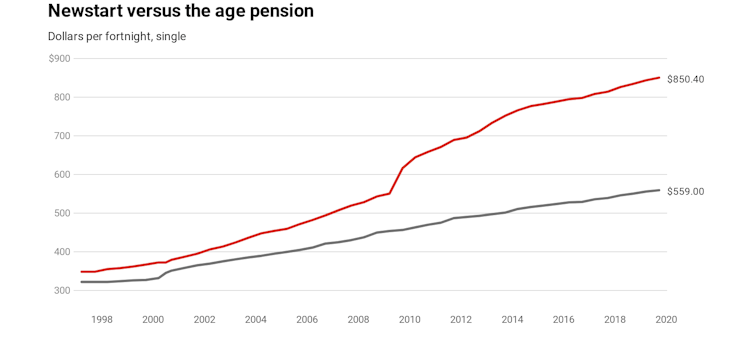 Authors: Peter Martin., Visiting Fellow, Crawford School of Public Policy, Australian National University
Read more http://theconversation.com/its-newstart-pay-rise-day-youre-in-line-for-24-cents-which-is-peanuts-123856