The certainty of ever-growing living standards we grew up with under Queen Elizabeth is at an end
Written by

Peter Martin, Visiting Fellow, Crawford School of Public Policy, Australian National University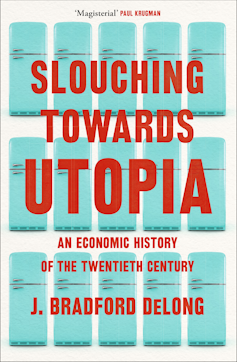 Much has been written about how, with the passing of the Queen, we have lost one of our last continuing links to the second world war.
We have, but we have also lost something even more profound – the link she gave us back to when the kind of world we know began.
On Tuesday last week Queen Elizabeth appointed a new prime minister of Britain, Liz Truss, who was born in 1975.
Seven decades earlier, Elizabeth II ascended to the role alongside Prime Minister Winston Churchill, who was born in 1874.
That her first and last prime ministers were born a century apart is remarkable enough. But it is particularly significant that the thread of her reign extended all the way back, through Churchill, to the 1870s. That's when, according to a new economic book, the expectations we all grew up first began.
Read more https://theconversation.com/the-certainty-of-ever-growing-living-standards-we-grew-up-with-under-queen-elizabeth-is-at-an-end-190425