Marketing and Artificial Intelligence combine to shake up the influencer marketing landscape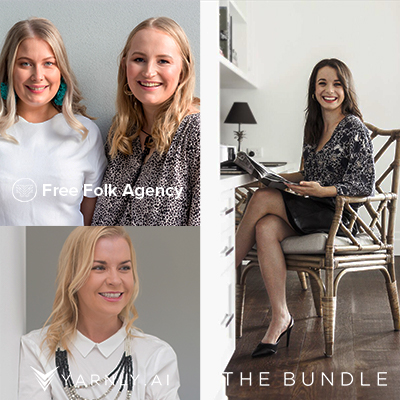 Free Folk Agency has joined forces with Yarnly Artificial Intelligence and The Bundle to shake up the influencer marketing space and change the game for brands who want to leverage influencer marketing and make an impact, without losing a genuine human connection to their community.
Combining marketing, technology, automation and curated gifting experiences, the partnership will give brands access to a truly end-to-end influencer marketing solution with Free Folk Agency on the strategy and execution, Yarnly.AI on conversion-driven chatbot implementation and The Bundle on developing creative gifting experiences that bring surprise and delight potential customers.
Grace Newman from Free Folk Agency said influencer marketing is about so much more than generic sponsored posts or a focus on mass reach, and that many influencer marketing campaigns are still missing the mark.
Organic reach on social media platforms is declining and as we move into 2020, brands need to look for new ways to stand out in an oversaturated, 24/7 content cycle and they can do that with smart and strategic influencer marketing.
At Free Folk Agency, our specialist team have an intimate understanding of the influencer marketing landscape and while we've seen the industry mature over the last 5 years to become a widely leveraged marketing channel, the gap between influencer collaborations, scalable impact and tangible reporting still isn't seamless.
Measuring impact and attribution is a pain point for brands who want to invest but don't know how to measure the ROI of their activity, and it's a challenge for marketers who can't justify their work with hard metrics.
There is a gap in the existing influencer marketing platforms and offerings available to brands and agencies in Australia and beyond, and we saw an opportunity to combine technology, data and customer experience while also prioritising human connection and relationships," Newman said.
Through the new offering, businesses will be able to use influencer's link out assets to better connect with potential customers, collect insightful and impactful customer data for retargeting and better attribute influencer marketing spend with unique reporting on individual influencer's contribution to the campaign.
Yarnly.ai founder, Aoife O'Connell said she is thrilled to bring her tech know-how to the influencer marketing space and show Australian brands how to better connect with potential customers, safely collect customer data and better attribute influencer marketing spends.
We are experts in chatbots and chat marketing and develop AI solutions that create personality-driven automated conversations for businesses, brands and influencers," she said.
Brianna's creative gifting expertise, tied with her background in marketing and journalism, gives her a unique understanding of the importance of brand representation across every touchpoint, both online and offline.
The Bundle creates gifting concepts that get people talking, tagging and teaching consumers about their brand, and we have recently partnered with some of Australia's leading brands including Google, Channel 7, GHD and Nike," she said.
Together, Free Folk Agency, Yarnly.ai and The Bundle will give businesses the opportunity to leverage influencers in their marketing strategy in a new and exciting way, with a one-stop solution that covers campaign strategy and execution, AI technology and automation and creative gifting experiences that are polished and on brand, every time.
For more information about the Free Folk Agency's, Yarnly.AI's and The Bundle's partnership and innovative influencer marketing offering, head to https://www.messenger.com/t/YarnlyChat.