Children's therapy service – Therapies for Kids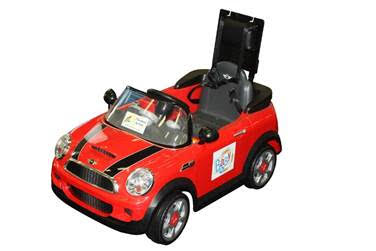 Sydney's most sought after children's therapist service, Therapies for Kids is changing the way children with disabilities learn and grow with its integrated range of intensive programs and innovative equipment. The transdisciplinary allied health practice is based in a state of the art inclusive therapy centre located in the inner west suburbs of Annandale and specialises in speech pathology, occupational therapy and physiotherapy.
The therapy centre is for children of all abilities, so children who are typically developing and require short term remedial therapy are treated alongside children who may have a disability. This approach reduces the extent of marginalisation that kids with disabilities often experience.
Director of Therapies for Kids, Debbie Evans founded the business nine years ago after seeing a gap in the market to provide families a central location with a wide range of children's therapy treatments and the expertise of trained specialists all under one roof. In addition to Debbie's 30 years of experience working with children in various clinical settings, Therapies for Kids has a dynamic team of experienced children's therapists.
Therapies for Kids offers unique treatments with a difference – each program is tailored to the individual's needs and abilities. They are designed to be delivered in weekly sessions across each therapy discipline over an extended period of time or as an intensive therapy program for three weeks between three to five hours per day, depending on what the abilities or needs of the child are. The programs are also specifically tailored for children with complex disabilities such as Cerebral Palsy, spinal cord injury, Autism Spectrum Disorders (including Asperger's Syndrome), Down Syndrome, brain injury and complex pain syndromes. The team of specialists are also committed to early childhood intervention therapy and post early intervention support.
Therapies for Kids are one of the leading and most innovative therapy centres in Australia as they use effective and fun treatments that involve the latest specialised gross motor and sensory equipment, such as their 'GoBabyGo Car', GoBabyGo Suspension Harness System, 'Spider Cage' and 'Fizzy Gym' to help their young clients develop with ease. With the success of GoBabyGo Car in America, Therapies for Kids is the first in Australia to support and launch the revolutionary toy cars for children who can't crawl or walk normally. The range of treatments the centre offers can be individual or group based.
The centre focuses on improving functional skills and qualities such as independent mobility, strength, flexibility, balance, coordination, endurance, gross and fine motor skills, cognition and thinking, play & socialisation skills, motor planning, feeding and receptive and expressive language.
By implementing the most up to date therapy techniques, Therapies for Kids stands out from other centres with their GIFT program of therapy provision:
G – Goal Directed
I – Intensive
F – Functional, family centred and fun
T – Transdisciplinary therapy
A transdisciplinary practice involves a team of experienced therapists, families and clients working together to address the needs of the child and their family. The benefits of this approach is that there is free flowing communication and transfer of skills and knowledge across different roles.
"By using a transdisciplinary practice, we have found that everyone benefits and is involved in addressing the progress and needs of the child and their family," says Debbie. "We also use the Goal Attainment Scale (GAS) to develop clear family centred goals which measures and evaluates how successful the intervention of therapy is for each child."
"We believe in every child's potential and have the vision to see it and the expertise to unlock it. In everything we do, we are respectful and understanding of clients and their families. We work hard to provide playful therapy environments, instill confidence in children and most importantly, be an advocate for positive change. We are passionate in what we do and love that we are making a difference," says Debbie.
Therapies for Kids is for kids of all abilities. For more information, visit
www.therapiesforkids.com.au
Therapies for Kids is located at 37 Nelson Street, Annandale, NSW 2038.
GoBabyGo is a ground-breaking initiative which is transforming the way children with movement disabilities experience physical interaction and mobility through innovative technology.
In 2006, paediatric researcher and Professor of Physical Therapy at the University of Delware, USA, Cole Galloway launched GoBabyGo after studying immobility and realising how it can significantly impact a child's ability to learn and socialise with peers. He created GoBabyGo to enable children who had problems with mobility but were too young for an electric wheelchair. Galloway developed a reliable and affordable way to modify off-the-shelf toy cars so that children who can't crawl or walk normally could move and explore at home, kindergarten or in playgrounds. The system was developed for children aged six months old and up.
Instead of patenting his system and selling the device, he's made it available to parents and medical staff around the world who understand that, for young children, moving independently without parents or carers is a vital part of learning spatial awareness and creating normalcy for them to socialise with others.
Therapies for Kids is Sydney's most sought after children's therapy service. They are the first to launch GoBabyGo in Australia. The four hour event will include a presentation on the science behind mobilisation and social development and the minor modification of eight initial GoBabyGo toy cars and one quad bike. Therapies for Kids is donating these toys to families in need and sponsoring all cars, worth $10,000.
At the event, Therapies for Kids will also launch GoBabyGo Australia, a Charitable Trust with an organising board who supports and will continue to introduce new GoBabyGo initiatives into Australia. The charity is working with partners and supporters to bring GoBabyGo to Australian children who will benefit at no cost to their families.
"We are so excited to be launching and sponsoring this exciting initiative into Australia," says Debbie Evans, Director of Therapies for Kids. "It will truly transform the way mobility impaired children move and explore. It's so rewarding that we can also introduce and support GoBabyGo Australia as we know this charity will help children of all ages and abilities."
Although there is an adequate disability equipment funding in Australia, some children and families are often not ready for wheelchairs and power chairs. GoBabyGo toy vehicles are suitable for kids with disabilities and are age-appropriate devices that encourage social interaction with family and friends and offer mobility to assist with a child's overall therapeutic development. 
A small and experienced team from Therapies for Kids will work alongside the child's doctors, specialists and parents to assess a child's specific needs. This can include identifying an appropriate toy vehicle for the child and/or making protective adaptations tailored to suit each child. Children will also learn how to sit upright as well as steering and stopping. The electric vehicles are battery powered and rechargeable.
"Fun is key here – it unlocks brain development and exploratory drive for the child, and ignites active, engaged play from adults and peers," says Galloway. "Beyond mobility and socialisation, we hope that these cars can provide children with disabilities a chance to just be a kid."
There are currently 60 places in America and eight places around the world providing kids with these innovative toy cars.
The GoBabyGo Australia launch will be held on Sunday 15th May at 10:30am at Leichhardt Public School (Cnr Norton St and Marion St), Leichhardt NSW 2040.
For more information, visit www.therapiesforkids.com.au