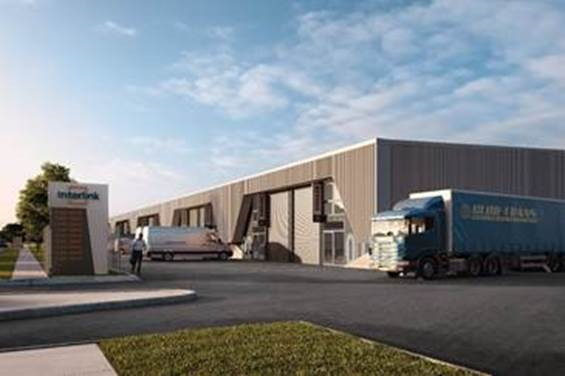 Hong Kong founded Sydney design business of 30 years finds new home at Interlink Strathfield industrial estate  
Functionality, efficiency, and longevity are the core principles underpinning Interlink's Industrial design units
Since 1989, Johnny Loi's retail-wholesale business has been dressing Australian windows with bespoke curtains and blinds for commercial and retail clients, which has included hotels such as The Langham, Sydney and thousands of private homes. 
After decades in the business, the Director of Eternal Bellus Design, Johnny Loi knows good design and with a portfolio of residential properties, he also knows a valuable property investment when he sees it. 
With Eternal Bellus Design fast outgrowing its current Silverwater headquarters, Loi turned to the web to find a larger manufacturing space.
Initially looking to rent rather than buy, he entered his required dimensions of a 400sqm industrial unit in a real estate search and soon realised both the scarcity of industrial spaces available near the CBD and in smaller sized warehouses.
"It was that simple, Interlink Strathfield offered the right size space and after researching I also found that rents for industrial warehouses were going up substantially. It made financial sense for me to invest in industrial," says Loi.
The Interlink Strathfield estate encompasses 65 strata title industrial units sized from 150sqm up to 1,000sqm and 23 strata titled storage warehouse units sized from 21sqm to 82sqm.
Interlink's modern state-of-the-art units designed by renowned architects Rothelowman appealed to Loi's design eye, as did purchasing property 'off the plan'.
"Buying 'off the plan' is the common Hong Kong way of buying a property and a great way to secure a good price for the future. Other advantages included giving me time to plan my factory and warehouse relocation, as well as the flexibility to build the experiential customer showroom I've wanted for years," says Loi.
Industrial factory units are simple and robust concrete structures, giving  buyer's piece of mind when purchasing off the plan, and have minimal ongoing maintenance requirements.
The site spans 26,000sqm and a low-density design allows ample space for wide driveways, parking, and dedicated container drop zones allowing the estate to function smoothly and efficiently.  

Located on a prime corner site on Cosgrove Road and Cleveland Street in Strathfield South in Sydney's inner west, opposite the Enfield Intermodal Logistics Centre, Eternal Bellus Design will also benefit from Interlink Strathfield's easily accessible transport logistics and distribution links for customer deliveries and a central location for customer pick up. 
The property development group, Primewest Development has sold more than 65 per cent of at its $65 million industrial estate. 
The last industrial units and storage units at Interlink Strathfield are now selling from $814,000 including parking. Units are also available with fenced private yards, which is a unique offering providing occupiers with outdoor storage - rarely seen in strata developments. 
For further information, visit interlinkstrathfield.com.au or call Claire Barber on 0403 519 915.
About Interlink Strathfield
Interlink Strathfield is new generation industrial estate being developed by Primewest Development comprising industrial units and storage warehouse units, the property is located at 50-62 Cosgrove Road in Strathfield South on the corner of Cosgrove Road and Cleveland Street.
 Unique Selling Points of the Interlink Strathfield project include:
Located in the true heart of the Sydney metropolitan area, and only 30 minutes to the CBD
Only 11% of Sydney's industrial land is within 30-minutes of the CBD, making Interlink a rare proposition
Industrial land supply is constrained, and Australia is on the cusp of an e-commerce boom, placing further pressure on demand for warehouse space
Predicted capital growth due to lack of supply and growing demand
Predicted rental growth due to lack of supply and increasing demand
Close proximity to the WestConnex which is operational from 2019
Increased accessibility to/from Interlink
Future time saving post completion of WestConnex
Architecturally designed by respected Australian architect Rothelowman. 
Significant advantages of investing in industrial over residential including higher rental returns, all outgoings typically recoverable from the tenant and longer lease terms.
About Enfield Intermodal Logistics Centre
Set over approximately 60 hectares, Enfield ILC is NSW's largest intermodal (IMT) operated by LINX and being developed by Goodman in partnership with NSW Ports. The EILC offers warehouse for lease up to 60,000sqm in area. 

Centrally located 15km west of Sydney's CBD in Strathfield South, users benefit from excellent road and rail connections to all areas across Sydney and beyond. www.enfieldilc.com
About Primewest Development
Primewest Development is a privately-owned property developer and fund manager operated by its directors and shareholders, which include John Bond, David Schwartz and Jim Litis - the founders of Primewest, a national property investor with a portfolio valued in excess of $3.5 billion. This portfolio spans numerous asset classes including commercial, retail and industrial property (including Interlink Strathfield) throughout Australia.
Together with Rob Thomas and Banjo Bond, the Primewest Development directors have significant development experience gained over three-decades in both Australian and international markets  www.pwd.biz