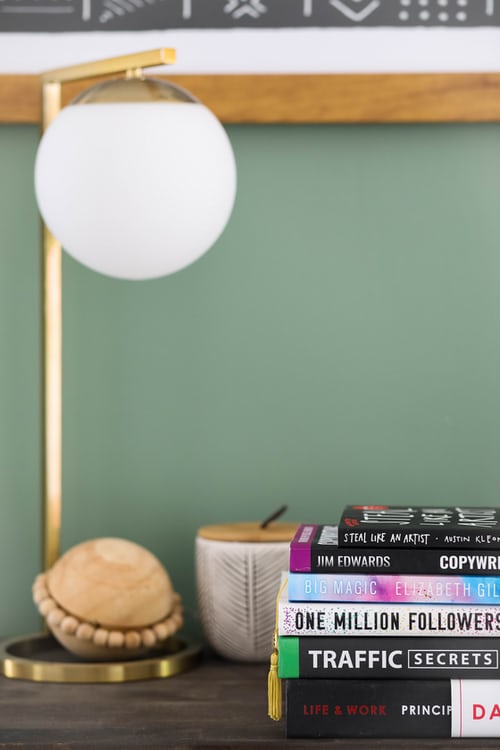 With work from home being the new normal, many people are struggling to create a mindful workspace that would stir up their productivity. If you're looking to revamp your home office, then start with choosing the right wall paint colour. Check out the three best home office paint colours that we've rounded up for ultimate productivity and concentration.
Olive Green
While it is tempting to go all-in for the 'most popular and trending colours', I would suggest you hold your thought. Try to balance your sentiments with a room design that goes with the rest of your house. Choosing a wall paint that oddly stands out, might ruin the aesthetics of the whole house. This gorgeous shade of green will go with classic grey, white, and beige walls making it an ideal choice for home office walls. Also, green colour can be calming, balancing, and energizing which ultimately helps in increasing your productivity.
Walnut Brown
Brown is often associated with qualities like power and strength. Brown paint for your home office is an excellent choice if you're after a space that offers a powerful and luxurious vibe. Mix and match with rich wood furniture to create an opulent space.
Light Grey
This shade is a perfect middle-ground for people who are confused between warm white and dark grey. While warm white is a safe choice, dark grey is a bold one. If you're after something slightly warmer than white and lighter than dark grey, then this is your pick. This shade on the wall will complement almost all kinds of décor. If you're creative and experimental go for bright furniture and if you're a minimalist go for something subtle like Scandinavian furniture.
There are so many options of popular interior paint colours to choose from. Deciding which one suits you the most can be tricky and time-consuming. The above three are our top picks, but if you're still not sure, check out the list of tried and favoured paints by decorating experts. This will surely help make your decision.